If your teen or preteen has chronic Lyme disease or any other chronic illness it's important to minister to them in a way that provides the strength and hope they'll need to endure their trial.
Years ago my entire family of 6 became sick with chronic Lyme disease. It was tough but I know that it was hardest on my kids. Chronic illness places a strain on the family even when only one member of the family is sick. When my 3 daughters were sick I knew that it was important to provide for their physical needs but I quickly learned that I had to also take very special care of their emotional and spiritual well-being and I want to share those things with you.
The simple act of caring is heroic. Edward Albert
Ways You Can Minister to Your Teen
Spend time with God.
I'm sure you know that you can't give to others what you don't possess for yourself. The only way to effectively minister to others is if you yourself are being ministered to. You must first spend time with God through scripture reading, prayer and worship before you can offer His love to your teen. Taking care of a sick teen is difficult and without proper soul care you might easily become frustrated or impatient.
It's a fact that having someone with a chronic illness in the family increases stress in the home, it's especially difficult for the caretaker. If you are a caretaker, it's essential that you take care of yourself and have a thriving relationship with God. If you're struggling with that because of your circumstances I recommend reading When Life is Hard by James MacDonald.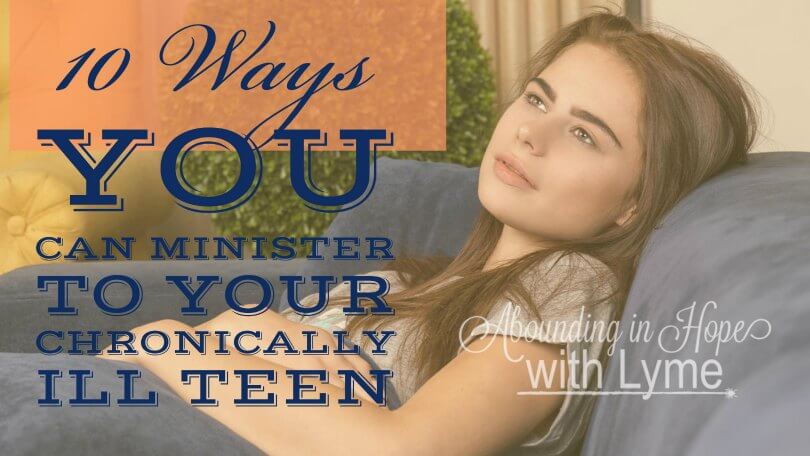 Pray for them and pray together with them.
Time spent in prayer deepens and strengthens our relationship with God but it also provides many physiological benefits. Read Prayer is Good For Your Health, Want to Know How? It's our responsibility as the parents to initiate prayer with our children, to teach them how to pray and to help them turn prayer into a lifelong habit. Encourage them to keep a prayer journal or start a family prayer journal where you record God's faithfulness and how He answered your prayers.
When we pray, we are speaking to the One Whose eternal purpose and designs are unfolding as our present realities. In order to find hope in them, we must seek HIM and HIS perspective. James Macdonald
Remind them of God's love and care.
It's common to doubt God's love and care when you're suffering and from a mother's perspective, it's heartbreaking to cry out to God for your child's healing day after day but not seeing His answers. You must remind your teen and yourself of God's love on a daily basis. Remind them of all the ways God has taken care of them and how He has answered their prayers in the past, no matter how small. Pull out your prayer journal when times are bleak and your faith needs a boost.
Read Scripture.
God's word is living, active and sharper than any two-edged sword (Hebrews 4:12). No matter how many times you read a passage of scripture, God brings new life to that verse so that it meets you right where you are. Keep a list of scripture verses that bring encouragement and hope. Write down God's promises so when you need them you can have them ready.
Spend time with them.
Being sick is lonely. Friends seem to forget about you, family members can get tired when providing care round the clock and most of the time you're stuck at home with no social interaction. Designate a time each day, several times a day to be with your teen. Ask them if they would like to play a game, watch a movie or have you read to them. Coloring or working on a puzzle together are great quiet activities that don't require a lot of energy. Sometimes just snuggling together and talking are what's needed. The key to spending quality time together is to do something that meets your teen's felt-needs.
Let your gentleness be known to all men. The Lord is at hand.Philippians 4:5
Invite their close friends over.
When your teen is sick it might be necessary to reach out to their close friends or youth group. Explain to them what your teen is going through, how lonely they are and how much it would mean to them if they came over. Share ideas on how they can help to encourage your teen. Would your teen like to listen to music and have a quiet visit, maybe they would like they like to talk and look through social media together, catching up on all that's going on in their social circles. Offer to provide snacks or dinner and always set a time limit so that your teen doesn't get worn out from an overly long visit. Most of the time your teen won't have the energy for a full house so keep their visitation to one or two close friends.
Get them out of the house.
Whenever your teen is having a good day, has extra energy or is simply able to go on a short excursion, get them out of the house. Being home-bound depresses the spirit and creates a feeling of isolation. Keep careful watch for depression and take action to help your teen move through those feelings. As often as possible, encourage your teen to tag along with friends, go out to a movie, go to church, youth group, or a special event. It may be that your teen will have to spend the following days in bed recuperating but it's still important that they engage in outside activities whenever they can. Help them come up with a way to serve others by doing a craft, making a phone call or writing a card of encouragement. When we focus on helping others we forget our own problems and help ourselves.
Provide them with a cuddly animal.
Petting an animal increases endorphins and reduces stress. It may not be possible to buy your teen a kitten, a puppy or a rabbit but if you're able to it might be worthwhile. If you already have a pet, encourage your teen to spend time with your him. Treats for your pet will make it easier for him to stay nearby your teen. A pet can keep your bed bound teen company when everyone else is busy. As always, check for ticks and fleas on cats and dogs and be sure they are clean before allowing them in your teens bed.
Make doctor's appointments memorable.
Your teen will most likely require many of doctor's appointments over the course of their illness. Make it a point to turn these appointments into special times together. Use the time traveling to talk or listen to their favorite music. Be friendly with the nurses and staff at the doctor's office, labs and other facilities. Having a good relationship at the doctor's office makes it a little easier when visits are frequent. Find out what restaurants, stores or special places are nearby the doctor's office. Plan extra time to stop and enjoy a treat. In many parts of the country, it's becoming easier to find restaurants that serve food which will meet your dietary needs.
Dream Big
Teens love to dream about the future but they may not feel like they can dream about their own future when they've been sick for so long.  You will need to give them that hope. Help them dream by asking questions about what they love, what they're interested in and what's the first thing they want to do when they're well. Ask them what they would do or where they would go if they could do anything they wanted. Give them something to look forward to. Why not help them create a dream board.
As long as there's a dream, there's hope and as long as there is hope, there is joy in living. Unknown
Some chronic illnesses may last a lifetime and the reality is you can't promise your teen that they'll get better. You can teach them to live with a hopeful heart, to trust in the Lord for every need, and to find joy in the little things. Teach them to look outside of themselves, even when they're suffering, to serve others the best they can and to learn how to live fully in the moments that they can.
These are powerful lifelong tools that will minister to the needs of your teen and encourage them to live in a way that brings glory to God through their suffering.