Hi and welcome to my blog, Abounding in Hope with Lyme. I'm Tricia and I live in the beautiful state of Maryland with my husband and children. I've been married to my handsome husband, Scott, for 27 29 years now. Together we have four children who are now 21, 19, 16 and 9. Our two oldest have graduated from our homeschool and our youngest two will continue on.
Why a Blog?
I had never thought of blogging. My sister kept insisting that I have a place online where I share my experience. I ignored her for a while but it seemed everywhere I went I would meet someone who had Lyme or their kids did and they were struggling to get the care they needed. Those who had a Lyme doctor weren't getting better. As I interacted with complete strangers I was encouraged over and over again to share my story and my family's experience of living with chronic tick-borne diseases. So in January 2015, I began Abounding in Hope with Lyme. I share my journey with Lyme, homeschooling and my deep faith in God.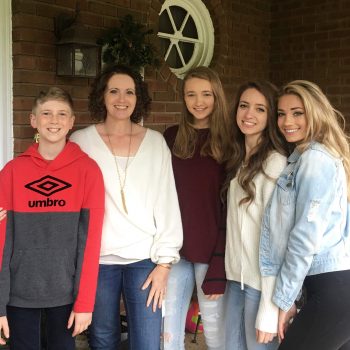 An Entire Family Sick With Lyme
Our whole family was diagnosed with Lyme disease, Bartonella, and Babesia and a host of other things. I spent two years going to doctors and specialists. I was finally diagnosed in 2009. Lyme testing is so inaccurate and doctors are not trained to understand the complexities of tick-borne diseases so it's very difficult to get a diagnosis. Then it took several more years to get each of my children diagnosed. You can read more details in My Story.
My purpose here is to share my experience with Lyme disease in the hopes that this will be encouraging and informative. Lyme disease can be a devastating disease and my hope is that the information here will help you to be educated so that you can protect yourself and your family or get the help you need.
A Place of Hope
If you are struggling with chronic health problems life can be very discouraging and lonely.
Sometimes having a place to turn where you can connect, even in some small way, can give you the encouragement you need to keep going, make necessary changes and to not just survive your challenges but to thrive in them, to learn how to come to a place of healing.
I am a born again believer in Jesus Christ. You will find my faith and trust in Him is at the core of who I am. I hope this won't be offensive to you or keep you from spending time here and getting to know me.
I'd like this to be a place where you can find helpful information and encouragement. As I share my journey I want you to know that it's primarily about what God has been doing in my life. This is why I named my blog Abounding in Hope, because with God, through it all we can abound in hope in the darkest of times.
Finally, please understand that I am not a doctor or a health professional in any way. All information shared on this blog are for informational purposes only and are not intended to diagnose, advise, or treat in any way. Please always seek the advice of a knowledgeable doctor.
I am, however, a research junkie and health advocate. I feel strongly that unless you take your own health seriously you will not get better. You need to understand how your body works. You need to make the hard but necessary changes. Healing from Lyme disease is primarily about healing the immune system.
I hope you find my blog helpful and encouraging.