Disclosure: This post may contain affiliate links which helps me keep my blog running. AIHWL is a participant in the Amazon Services LLC Associates Program. Please read my full disclosure.
Today I'm baking my absolute favorite biscotti recipes.
Years ago, I found these two biscotti recipes in a popular magazine that was delivered to my home. I was intrigued by these recipes and couldn't believe that I could actually make biscotti at home.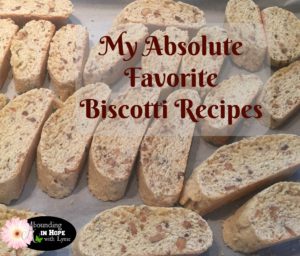 Biscotti goes great with coffee! I'm a coffee lover and I mean, I really love coffee. I don't need sweeteners or fancy-schmancy drinks, just a good strong brew made with freshly ground java beans.
But, I digress; on to my biscotti recipes.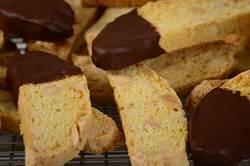 The first recipe is for an Almond Biscotti from Joy of Baking. This biscotti is delicious exactly the way the recipe calls or you could add lemon or orange extract, (I use Young Living Lemon or Orange Essential Oils), in place of the almond extract.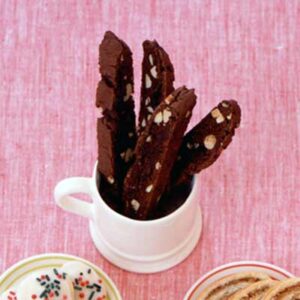 The second biscotti I make is a Chocolate Brownie Biscotti from Good Housekeeping, which is just as delightful as it sounds. This recipe makes a larger biscotti and it's chewier than the almond but still holds up to dunking it into a large mug of coffee.
If you're not a dunker, no problem, just don't double bake them. That's what makes them a hard cookie.
Drizzle or dip in chocolate. Sprinkle with chopped nuts or chopped candy cane and you have the perfect gift.
SUBSTITUTIONS:
Need a Gluten-Free recipe? Try substituting Namaste Perfect Flour Blend which converts cup for cup. I use Organic Cane Sugar whenever I use sugar. It's non-GMO and unrefined.
Biscotti is so easy to make. You might want to double the batch, they won't last long, I promise.