Disclosure: This post may contain affiliate links which helps me keep my blog running. AIHWL is a participant in the Amazon Services LLC Associates Program. Please read my full disclosure.
I've already shared how much I love Christmas baking. Before Lyme disease, my list of favorite baked goods was quite long. I could bake for an entire week and I was totally in my happy place.
Today, I went on my search for some healthy Christmas cookie alternatives. It's not as easy as you think. I found recipes but either they had too much sugar or they had gluten.
My youngest daughter has found that being on a strict gluten, dairy, and sugar-free diet is the key to keeping her OCD and anxiety at bay. I have found that limiting my intake of these foods helps with my fatigue. The rest of my family just eats whatever they want for the most part.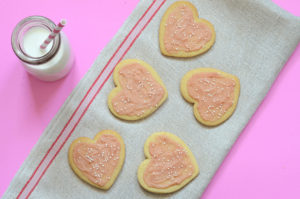 I found this recipe for Paleo Sugar Cookies over at Elena's Pantry. The ingredients look great and my daughter was so happy I mixed this dough up for her.
Be sure you follow directions and cover the dough with parchment paper while you're rolling it out otherwise the dough sticks to the dough roller.
My daughter will be baking these cookies tomorrow.
For the rest of the family, I pulled out my traditional Sugar Cookie recipe but instead of using powdered sugar, I substituted 1/2 cup of organic cane sugar. This recipe rolled out nicely but after baking, they were pretty crumbly. We loved the taste. They were just the right amount of sweetness.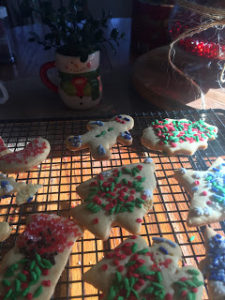 Here's the recipe with my sugar modification. The original calls for 1-1/2 cups of powdered sugar.
CHRISTMAS SUGAR COOKIES
1/2 Cup Sugar or 1/4 Cup Sugar/Stevia blend
1 Cup Butter
1 Egg
1 teaspoon Vanilla
1/2 teaspoon Almond Extract
2 1/2 Cups King Arthur All-Purpose Flour
1 teaspoon Baking Soda
1 teaspoon Cream of Tartar
Mix sugar and butter in a large bowl. Stir in egg, vanilla, and almond extract. Stir in flour, baking soda, and cream of tartar. Cover and refrigerate about 2 hours or until firm.
Heat oven to 375°f. Roll half of the dough at a time 1/8 inch thick on a lightly floured source. Cut into desired shapes. Place on ungreased cookie sheet; sprinkle with granulated sugar.
Bake 7 to 8 minutes or until light brown. Remove from cookie sheet. About 5 dozen 2- 2-1/2 inch cookies.
SNOWBALL COOKIES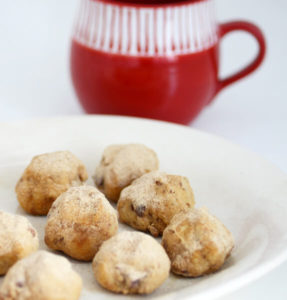 One of the traditional cookies my Mom always made were something we called "Snowball Cookies". When I grew up I found out they're actually called Russian Tea Cookies or Mexican Wedding Cookies. This week I plan to try these Paleo Mexican Wedding Cookies.
I have a few other favorite cookies on my list, I sure hope I can get around to making them.
What are your favorite Christmas Cookies?