It's Sunday night, there's a full Hunter's Moon tonight and quite honestly I'm more than just a bit overwhelmed!
I've felt sluggish and tired all week, my kids are complaining of a return of symptoms and everyone has been irritable and argumentative. My little guy has had so much pain this weekend and tonight he hurt so badly that we had to give him Motrin and soak him in an Epsom salt bath.
It's so heartbreaking to see your child suffer in pain, especially when it's caused by a tick bite.
Despite living with chronic Lyme and co-infections for over 9 years and walking through this with my daughters, it never gets easier.
My son didn't even have his own tick bite! He contracted Lyme disease and co-infections from me when I was pregnant with him. When he was much younger he would ask me why he has to have so much pain and why I gave him Lyme disease. That's a pretty hard question to answer.
Sometimes I have to work at having a positive attitude, I have to work hard to keep a smile on my face and to see the bright side of things. Sometimes I want to ask,
Disclosure: This post may contain affiliate links which helps me keep my blog running. AIHWL is a participant in the Amazon Services LLC Associates Program. Please read my full disclosure.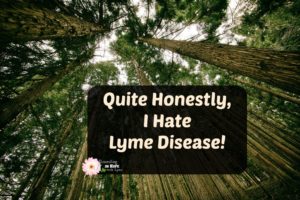 "why us?" Why did we have to get this? Why did my children have to lose so much of their childhood?
Sometimes the burden becomes harder as I minister to others and try to encourage them to keep working at their health, to make sure they rest and find the best care they can afford.
Sometimes I just don't want to tell another person that they won't be able to get their Lyme treatments covered by insurance because there's some political agenda that is preventing this disease from even being recognized by most doctors.
As I peruse the internet finding the latest research and the best treatment options; or as I read through Lyme forums and hear how desperate and horribly sick people are, I'm overwhelmed with the sheer numbers of people who are affected by this dreaded disease.
EVERY YEAR there are at least 329,000 people diagnosed with Lyme disease!

EVERY YEAR there are at least 329,000 people diagnosed with Lyme disease! #Lymedisease #lymeaware Click To Tweet
Men, women, and children are all suffering and many times no one is there to help them.
It's not like getting a "real disease" or being diagnosed with cancer or even having surgery. Most of time those with Lyme disease look great on the outside and so many times doctors, friends, and even family do not believe the person suffering is really sick.
Sometimes, quite honestly, I just get a bit overwhelmed about the whole thing and I declare, "I Hate Lyme!"