In Maryland, the weather has been consistently irregular! This time of year it's typical for us to have an 80-degree day and then the next day in the '50s.
I love to sit outside early in the morning with a blanket, a big mug of coffee, my Bible, and my journal. Somehow this practice fills my mind and my heart with peace and gets me started on the right foot. 
I'm sure you know how important it is to control your thoughts. Scripture tells us to "take every thought captive unto the obedience of Christ," 2 Corinthians 10:5 and Philippians 4:8 says, "Finally, brothers and sisters, whatever is true, whatever is noble, whatever is right, whatever is pure, whatever is lovely, whatever is admirable – if anything is excellent or praiseworthy, think on these things!"
Disclosure: This post may contain affiliate links which helps me keep my blog running. AIHWL is a participant in the Amazon Services LLC Associates Program. Please read my full disclosure.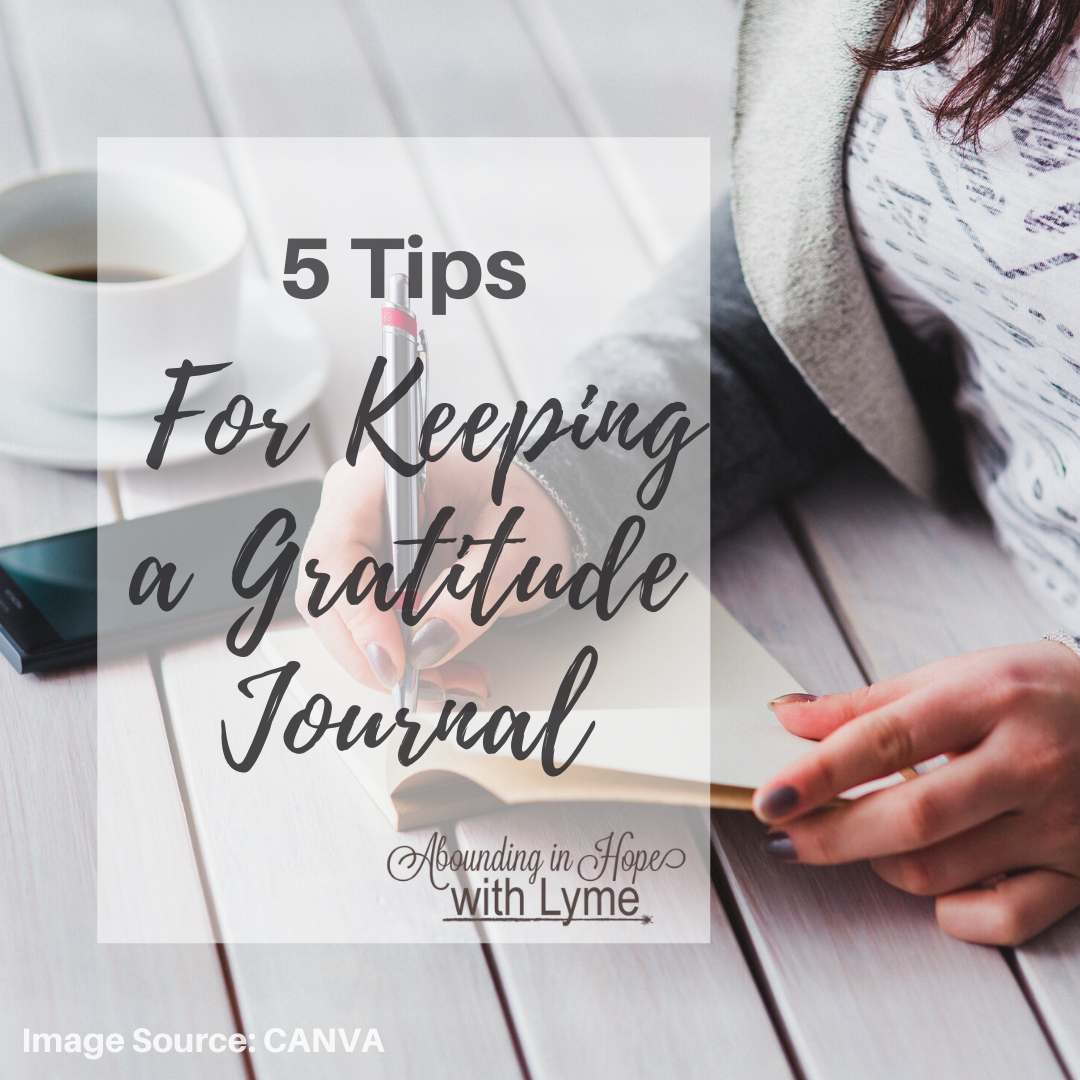 Not Just For November
November is just a few days away and traditionally that's when most people, including yours truly, begin to think about being intentional with gratitude, it doesn't have to be that way. In fact, as believers, it shouldn't be that way. We should be the most grateful people in the world. Our gratitude should come very easily and yet for some of us it's very difficult, ((raising my hand)).
Keeping a Gratitude Journal
Science has proven that creating a gratitude journal helps with mental health, and gives us a new perspective on life when we are feeling weary. To some, this means sitting down with a diary and writing a few paragraphs each day and for others, it means writing one to three things we're grateful for.
There are so many ways you can create a gratitude journal that will help you get even more out of this part of your day!
If journaling is new to you or you struggle, like me, to be consistent with the gratitude part, here are five tips for keeping a gratitude journal.
Choose a Particular Time of Day for Your Journaling
Slotting your gratitude journal into a specific time of your day brings consistency to the practice. Once you have been journaling in this fashion for a period of time, you will begin to look forward to it. It will help you prepare mentally as you anticipate journaling. You may find that you begin thinking of things throughout the day that you can write in your gratitude journal, and this will cause your entire day to flow naturally into a more optimistic state.
Have a Set Number of Things to List Each Day
Some people prefer to sit down and write the things they are grateful for each day and quit when they are finished. This is fine, but sometimes having guidelines can be helpful. If you tell yourself you will list five things, that gives you time to get into a little more detail on each one, instead of it becoming just a long list. Take time to spend a few moments thinking about each thing that you write down, and realizing how truly blessed you are to have this person, situation, or feeling in your life.
Think of Both Big and Small
Don't feel that the things you are thankful for have to have an earth-shattering presence. You might be thankful for a wide range of things, such as a recent trip to the Caribbean, or something minor like a new pen that fits your hand perfectly. It is in these moments of learning to appreciate a wide variety of what we have, that we begin to feel joyful in anything positive that comes our way.
Turning Negative into Positive
Instead of just listing obviously happy situations and ignoring the negative, try to find the positive within the negative. Even in the most troubling circumstances, there is good to be found. When we see a disturbing situation on the news, there is always a positive side of people coming together to help each other out. There is always good in humanity that will show itself the strongest when you need it.
Apps to Make It Easier
There are several apps, both free and for purchase, that you can buy to assist you in your journaling.
"Gratitude Journal" is a great app that gives you prompts to list the things that you are thankful for. You can keep your entries private or share them on social media, whatever your preference may be.
"Gratitude Journal 365" is an app where you can add a daily photo to your entry, and view them later on one screen for a beautiful display of the things you appreciate.
Make Gratitude a Lifestyle
Maintaining a gratitude journal has many benefits, including gaining more energy, feeling more optimistic about life, and possessing better physical and mental health. Its many positive benefits compile to bring you an all-around better quality of life. You don't need any fancy equipment or an expensive guided journal, just grab an inexpensive notepad. Start your own today and see the difference it can make in your life.