Disclosure: This post may contain affiliate links which helps me keep my blog running. AIHWL is a participant in the Amazon Services LLC Associates Program. Please read my full disclosure.
It's a beautiful time of year but when you have a chronic illness it is often a very difficult time. It's even more difficult when you're greatly affected by the lack of sunshine and cold winter weather.
These environmental changes often increase symptoms like sluggishness, fatigue, and pain. Thankfully, with the Christmas season being right at the beginning of winter it offers friends and family a great opportunity to gift you with beautiful gifts that also help to ease your pain.
Chronic Illness and the Perfect Gifts
As I remembered the days when my pain level was off the charts and every day was difficult I thought I'd come up with a list of gifts for women with chronic illness.
I'm pulling images and links from Amazon because it's an easy way to show you what I'm talking about and you can create an Amazon Christmas list to share. I get a very small affiliate fee if you use my links which I always appreciate.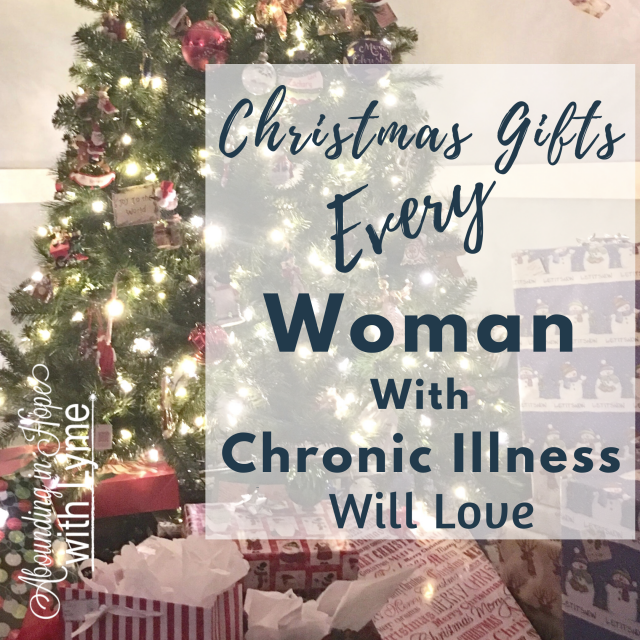 A Cozy Blanket
My personal favorite is a warm, soft, fluffy, cozy blanket! Can you tell how much I love my soft blanket by the number of adjectives I used? I snuggle up in my blanket almost every evening.
When I was struggling with Lyme disease my girls and I each had our own cozy blanket and we could often be found on the couches all wrapped up. A cozy, soft blanket is both warm and comforting.
Back Massager
A massager can be a girl's best friend when her shoulders, neck, or back are throbbing in pain but no one is around to give her a rubdown.
Not all massagers are created equal though so do a little research to find one with good reviews.  When I purchased something online I look at reviews and how many stars it has. Here's one like mine and that I would recommend.
Weighted Blanket
You guys, a weighted blanket was a game-changer for me! My legs would ache and would be so painful through the night but with a weighted blanket, I slept soundly through the night.
My current blanket is just a really heavy blanket that someone gave me years ago. If I didn't love it so much I would buy something like the one below. This blanket would be especially helpful for year-round use. Many children and teens with autism, anxiety, and PANS/PANDAS also do very well with a weighted blanket.
Amazon Prime Subscription
Hello! Can you say ultimate convenience? I feel like most everyone already has Amazon Prime but if you don't it is such a wonderful service because of the unlimited 2-day shipping for most of their products.
When I run out of my supplements or need anything for my home and family, I can get it on Amazon. You'll also get access to Amazon Prime Video and photo storage.
If you have a college student at home you can choose Amazon Student for a discount.
Instant Pot
I refused to jump on the Instant Pot bandwagon and I have been "kicking myself" for it! I finally got one and I absolutely love it.
The reason I think this will be an amazing gift is that it makes cooking super easy, super quick, and super tasty!
After my surgery, I was able to throw in some chicken thighs, chicken broth, rice, frozen carrots, and green beans and within thirty minutes I had a pot of amazing, homemade chicken soup.
So what I'm saying is, the Instant Pot or even a generic pressure cooker, is such a blessing when you don't feel well but still need to eat nutritious meals.
Essential Oil Diffuser
While I don't use as many essential oils as I used to, I still love diffusing oils rather than burning candles. I use Young Living essential oils for many things. However, when it comes to buying a diffuser, I tend to think the ones you can get online are just fine.
A diffuser can be a great gift for someone with chronic illness because diffusing essential oils like lavender, orange, lemon, and Thieves can be very beneficial for the immune system and can help with anxiety, insomnia, and other bothersome symptoms.
A Beautiful Planner
In 2019 I used the Horacio Dream Planner. The layout was a little different from what I was using in the past but I have loved it so much.
They offer two different layouts but my favorite is the horizontal layout. I absolutely love the to-do section on the left side because I can write down my list once instead of transferring my to-do's to the next day.
You can watch my YouTube review of the Horacio Dream Planner.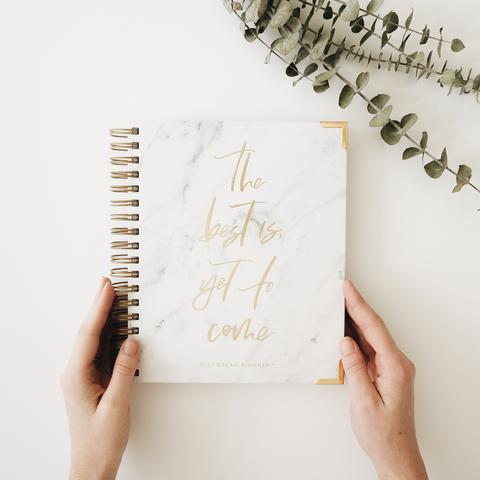 Homemade Gift Cards or Coupons
Finally, don't forget the simple but super loving gift cards or homemade coupons. Every woman who lives with a chronic illness would love for someone to offer to babysit, to clean a bathroom, do laundry or to make a meal.
What Gifts Do You Love?
I hope these gift ideas were helpful. Do you have a recommendation for a gift that someone with chronic illness would love? Leave a comment below. See my ideas for Christmas Stocking Stuffers here.