Disclosure: This post may contain affiliate links which helps me keep my blog running. AIHWL is a participant in the Amazon Services LLC Associates Program. Please read my full disclosure.
Have you ever visited a blog and wondered how they came up with their blog name? Or maybe you're like me, it doesn't cross your mind but you just think to yourself, "Oh that's a nice blog name," or "what were they thinking?".
As I was rebranding my blog there were a few things that were really important for me to keep, like my butterfly. To me, a butterfly signifies hope and that's what I've always wanted to communicate to those who read my blog.
I had to keep my scripture verse from Romans 15:13. This verse is how I came up with the name of my blog, Abounding in Hope with Lyme.
This scripture verse came alive to me back when our lives looked bleak; my entire family including myself, was sick with a disease no one believed in except for doctors who didn't take insurance. I was desperate for help, desperate for hope and yet we had come to a place where it didn't seem like we were ever going to get better.
I'll never forget a text message my friend sent to me during a particularly difficult time during our illness; here's what it said:
"I pray today that the God of hope will fill you with all joy and peace as you believe in Him, and that you abound in hope."
I sat for a minute and soaked in those words. I wanted to abound in hope. I wanted so badly to have peace and joy. Oh, boy did I need peace! I had no idea how I could or if I ever would again, but I wrote those words down in my journal and I thought about them often.
It's easy to have hope and peace when everything is going well. It's easy to encourage others when you're feeling at the top of your game. It's a much different story when it comes from a place of difficulty and trial.
Those words didn't come from someone who had it all together or from someone living a life of ease. So when they did come, it meant the world to me and I absorbed them.
As I try to bring encouragement to you, I want you to know that I understand how difficult it is trying to figure the whole Lyme thing out. I know how complicated it is to find a doctor you can really trust. I know what it's like to make an appointment with a specialist not knowing where the money was coming from. I know what it's like going night after night, month after month without sleep; exhausted and drained. I know what it's like feeling like God is silent and wondering if my prayers are going anywhere other than the bedroom ceiling. I know the desperation of a mother's heart when all she wants is to see her child healthy again.
So coming from that place, I leave you with the words from scripture that inspired the name for my blog.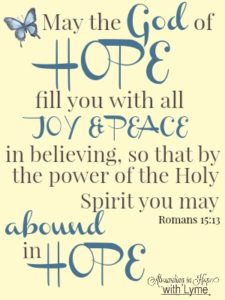 May the God of hope fill you with all joy and peace in believing, so that by the power of the Holy Spirit you may abound in hope. Romans 15:13