Why is Lyme disease so difficult to detect? Why is it so hard for a simple blood test to work accurately? Many people and doctors alike believe that Lyme disease is difficult to get but that it's easy to cure which is completely untrue.
The fact is, Lyme disease is very easy to get and it is incredibly difficult to diagnose and treat, so in my "I'm not a doctor" way, I'm going to try to explain why.
DISCLAIMER: I'm not a doctor and what I share here is based on my research and experience and is not intended to diagnose or treat you. Please seek the advice of a doctor.
New Lyme Infections
Let's start off by discussing what happens when a person gets a new Lyme infection. These tricky stealth-like bacteria have an immediate advantage as they're transported into the human body. A tick's saliva contains immune inhibitors that protect the bacteria from detection. Not only can a tick pass on its pathogenic load without being detected, the bacteria that causes Lyme has its own way of tricking the immune system. It has the ability to enter any type of cell in the human body, including white blood cells, essentially changing its DNA.
In simple terms, it communicates to these cells that it's one of "the good guys", further hiding from the detection and protection of the immune system.
Disclosure: This post may contain affiliate links which helps me keep my blog running. AIHWL is a participant in the Amazon Services LLC Associates Program. Please read my full disclosure.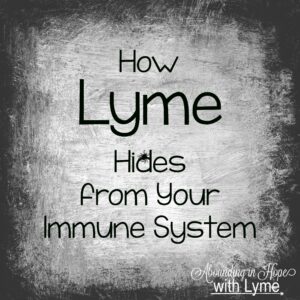 Borrelia Burgdorferi Bb, also known as Lyme, quickly move through the blood and head for places in the body where they can go undetected. Their corkscrew shape makes it easy to drill directly into the joints and tissues where they begin to create a storm of pain and destruction.
The more compromised or stressed the immune system, the better it is for the bacteria. A poor diet of processed food and sugar, a stressful lifestyle, and lack of sleep all create the perfect environment for Lyme and other tick-borne infections to make themselves right at home.
Because of their ability to hide and to "fit in", standard blood tests are ineffective and have a difficult time detecting antibodies, which result in a high rate of false negative tests.
Facts About Symptoms
It's possible that a Lyme infection won't produce symptoms right away especially when the immune system is functioning properly. Most people who contract Lyme don't even see a tick and not everyone gets that well know bulls-eye rash! In fact, only 50% of Lyme infections will produce a rash, only 25% will produce a typical "bulls-eye" rash that everyone looks for.
Only 25% of Lyme infections will produce a bulls-eye rash. #lymedisease #lymeawareness
Click To Tweet
When Lyme Becomes a Chronic Infection
When a Lyme infection persists for more than four weeks, the infection becomes chronic and begins to spread throughout the body. Some people will have intense symptoms right away and others won't have symptoms for days, weeks, or even months down the road. The infection can affect every organ, every tissue and every system of the human body.
Lyme is often called the Great Imitator because it causes so many different symptoms and can easily mimic many different diseases and syndromes such as Fibromyalgia, Chronic Fatigue Syndrome, Multiple Sclerosis, Alzheimer's, and Parkinson's.
While a strong immune system can hold off an early infection, this doesn't necessarily mean the bacteria are killed or the infection is not present. Oftentimes, this bacterial infection will just kind of hang out, maybe cause symptoms to occur slowly over the course of weeks or months.
The symptoms list of a chronic or late-stage infection is so long it's difficult to list every one of them, but here are just a few.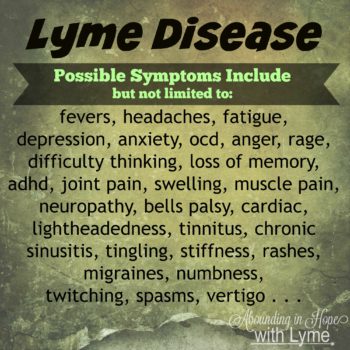 So while your immune system can do a great job holding off a Lyme infection, chances are it isn't strong enough to get rid of it completely.
Identifying and Diagnosing Lyme disease
How can you possibly know if you have a Lyme infection? While standard tests like the ELISA and Western Blot have a reputation of being highly inaccurate there are other tests available which are offered by labs specializing in tick-borne infections. These labs have a much higher percentage of accuracy but they're still not 100 percent.
There are 300 different strains of Borrelia and these bacteria are brilliant at hiding within your very own cells. They don't always produce antibodies like other infections. During the 4 1/2 years when my family and I were antibiotic treatment, our labs would show antibodies some of the time and not at all at other times even though we still had very severe symptoms.
While keeping your immune system in tip-top shape can help prevent a serious infection, it's very important to seek the advice of a trained physician to help combat the symptoms of an early or late infection. Antibiotics alone are often not thought to be the best course of action for a late infection because once again these stealthy microbes know how to hide from them too.
For further information:
Lyme Disease! What it is and Why You Should Care
Why Can't I Get Better Dr. Richard Horowitz
How Can I Get Better? Dr. Richard Horowitz
Healing Lyme Stephen Buhner
Unlocking Lyme Dr. William Rawl