Disclosure: This post may contain affiliate links which helps me keep my blog running. AIHWL is a participant in the Amazon Services LLC Associates Program. Please read my full disclosure.
I've been busy this afternoon making immune boosting foods.
I plan to share these great recipes so check back on the blog soon. My daughter has come down with a nasty cold. It started as just a simple cold but her throat is still sore and the cold has moved into her chest.
I should have gone to work at the very first symptom but my schedule has been crazy and I haven't had the time at home to prepare anything for her. This afternoon I made her elderberry syrup, bone broth, and butternut squash soup.
Elderberry Syrup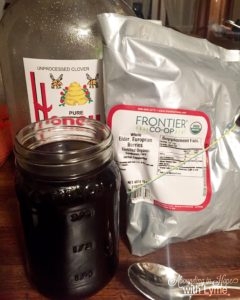 Elderberry syrup
is such an easy immune boosting remedy to make. Elderberries are rich in flavonoids and help to protect your DNA integrity.
It reduces stress and increases recovery time. It's antiviral and speeds up the body's ability to recover from colds and the flu. Not only that, it has the ability to protect against multiple strains of the flu. Overall, elderberry is an inexpensive and delicious way to protect your family during cold and flu season.
Bone Broth
You may have heard a lot about the amazing benefits of bone broth. When we were kids and got sick most of our mom's probably made up chicken soup. My mom usually made homemade chicken soup which is still my favorite and something I've continued to do for my family.
Because my family spent a number of years on antibiotics, bone broth has been a very beneficial addition to our diet because it's a gut healing food. It's full of vitamins, minerals and body healing nutrients which help to boost the immune system and decrease inflammation. You certainly don't need to wait until you're sick to enjoy this yummy broth.
I enjoy simmering my chicken or turkey bones all day but if you're going to be out a lot you can throw everything in a crockpot.
Butternut Squash Soup
Who doesn't love a creamy bowl of butternut squash soup? It's soothing, it's warm, it can be spicy if you like it that way and it's oh, so good for you.  Butternut squash it's low in calories and high in fiber and phytonutrients.  It has more vitamin-A than a pumpkin, has b-carotenes, lutein, rich in b-complex vitamins like folates, riboflavin, niacin, b-6, thiamin and pantothenic acid.
You can see why this is a great food for boosting your immune system.
While we can't always prevent being exposed to the flu or cold viruses, we can provide our bodies with rich nutrients and immune boosting foods.