Every year there are major warnings about the record number of ticks for the season and dangerous risks of contracting Lyme disease infections. Many people ignore the warnings and recall a time when a tick bite meant nothing at all. It's hard for them to believe ticks are dangerous when they had plenty of bites when they were children and never got sick. Many parents, however, panic when they find a tick on their child because they don't know what to do and they find conflicting information online. I remember that feeling when I found a tick on each of my daughters years ago and wish I had a clear treatment guideline.
I gathered information from the new ILADS treatment guidelines and made an easy to read printable chart that you can take to the doctor. I added some quick facts about Lyme and of course the link to ILADS and where to find their guidelines. UPDATED: Please see below for Natural Treatment Options! 
Please do your own homework. While many physicians follow the ILADS guidelines, each person is different and may require adjustments to how they treat their infections. Equally, physicians vary in how they approach Lyme treatment. It is, however, very important that you seek a physician who understands the seriousness and complexities of tick-borne infections. If your doctor will not treat and recommends watching the bite, please find a different doctor. It is vital that tick bites are treated right away to prevent chronic infection.
Disclosure: This post may contain affiliate links which helps me keep my blog running. AIHWL is a participant in the Amazon Services LLC Associates Program. Please read my full disclosure.
NATURAL TREATMENTS FOR A TICK BITE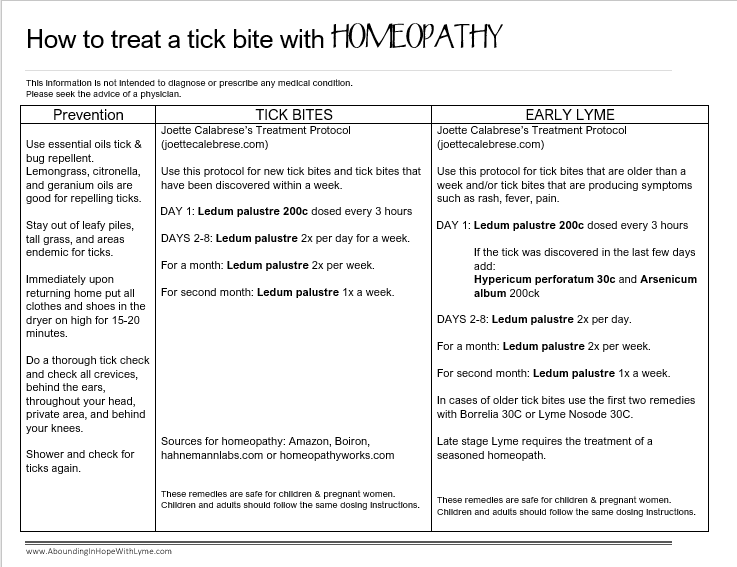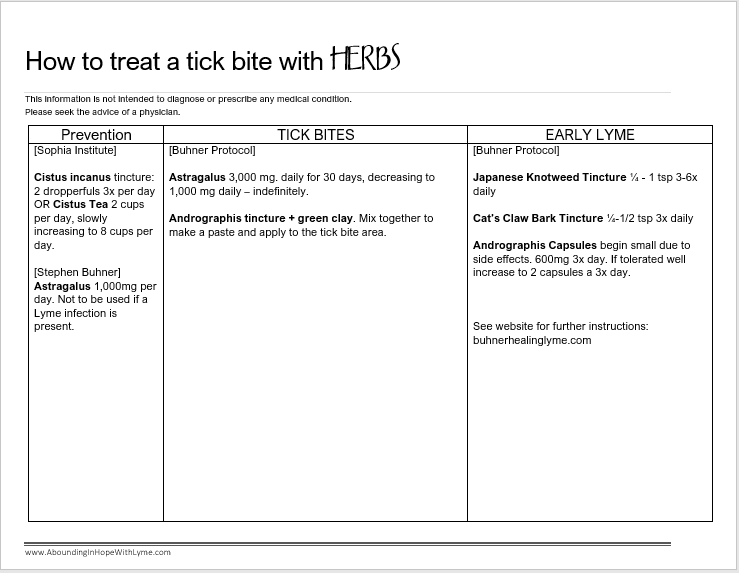 Remember that most doctors follow the IDSA recommendations for treating tick bites and Lyme disease.  That means they take an extremely conservative approach and may want to just wait and see if any symptoms occur.
This approach can be detrimental to your health as it was for my 3 daughters.
I always tell people that treating aggressively, in the beginning, could save you years of chronic illness and hundreds of thousands of dollars in out of pocket expenses.
Please learn your tick facts, learn about Lyme disease and co-infections and be prepared before you are facing a tick bite or unexplained symptoms caused by Lyme disease.
Be aware that even if you go to the doctor prepared you may get the runaround and not get the necessary treatment.
Don't give up, ask around and find someone who is willing to treat whether with antibiotics or holistic treatment but don't let it go and hope that everything will be fine. You'll be glad you took your health into your own hands.
If you would like to learn about natural treatment for treating a tick bite I suggest the following links: