I woke up at 5 am this morning, not able to sleep because of pain. I can usually get comfortable and go back to sleep but not today. Rather than lie there in misery I decided to get up, grab my Bible, a cup of coffee, and a pile of blankets and head to the deck for some quiet time.
The purpose of life is not to be happy. It is to be useful, to be honorable, to be compassionate, to have it make some difference that you have lived and lived well. Ralph Waldo Emerson
It turned out to be anything but quiet with the flock of crows in the backwoods. I never realized just how many different sounds a crow can make.
Once they took off I was able to read a bit from my Bible. I didn't have a plan, just started with Proverbs for the day and then moved into Philippians which is one of my favorite books.
There were two verses that struck me this morning. Proverbs 21:24 "A man's steps are of the LORD; How then can a man understand his own way." AND Philippians 1:6 "being confident of this very thing, that He who has begun a good work in you will complete it until the day of Jesus Christ."
I've been in one of the longest relapses I've had since I recovered my health from Lyme disease and tick-borne infections. I'm not taking it very well either. I thought I was on the right track, that I knew what to do and how to get better. The only thing that I haven't figured out is how to minimize the stress and busyness in my life. My focus again has turned to researching and trying to find out why I'm not well.
I made my plans; I listed off the doctors I needed to see; the integrative doctor, the nutritionist, therapy appointments I needed and with the help of the nutritionist I've implemented a plan and tweaked my supplement list.
Despite all my plans and efforts, I'm still not well and it's getting very discouraging.
Proverbs 21:24 reminded me that my steps are of the LORD and Philippians 1:6 reminded me that God has been doing a good work in me and that He is going to keep doing it until Jesus returns.
What does all that have to do with Lyme? Absolutely nothing! But it has everything to do with how I live with Lyme or any illness or setback.
I can wear myself out using all of my energy and focus on the goal of getting better that I lose track of the journey. I can forget to focus on the Lord who directs my steps and who does the work. If I'm not careful I can miss out on what God has for me because I'm too distracted.
My pain means slowing down and that allows for more conversations with my kids. It means quality time together because I need to clear my schedule. It means understanding what so many of you go through when you're not well. I have much more compassion and empathy for others. It means learning more about my body, about health and nutrition.
Disclosure: This post may contain affiliate links which helps me keep my blog running. AIHWL is a participant in the Amazon Services LLC Associates Program. Please read my full disclosure.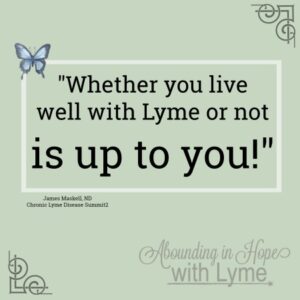 What does your journey look like? Are you so focused on getting well that you've forgotten to find purpose in your pain?
Don't ever stop working toward healing but please don't forget to look to the Lord for the purpose of your pain. Having purpose allows you to learn more about yourself, to be used in the lives of others, to feel compassion, and to bring hope to those who need it.