Every little girl dreams of growing up, finding Prince Charming, having a beautiful fairy-tale wedding and living happily ever after! My husband and I just celebrated our 28th anniversary and while we've had fairy-tale moments, I can't say that our life together has always been a fairy-tale. You may be newly married or have been married for many years but either way, marriage requires attention, nurture, and a whole lot of warfare.
28 Days of Godly Marriage
On February 3, 2018, I was a guest on Angel Penn's blog for her 28 Days of Godly Marriage. I just love how her 28-day marriage series coincides with my 28th year marriage anniversary. Me and 27 other women share from our hearts and from our experience. These are real-life testimonies that will challenge you, encourage you and inspire you. So, for the month of February, you will read from women who have "been there", "done that" and have a bit of godly girlfriend advice just for you. Grab a cup of your favorite hot drink, tell a friend and go on over to read my post today.
Find out what fairy-tales and marriage in the real world have in common. Check out my list of "one another's" and don't forget to grab a copy of my e-book, Abounding Hope During Difficult Times.
Disclosure: This post may contain affiliate links which helps me keep my blog running. AIHWL is a participant in the Amazon Services LLC Associates Program. Please read my full

disclosure

.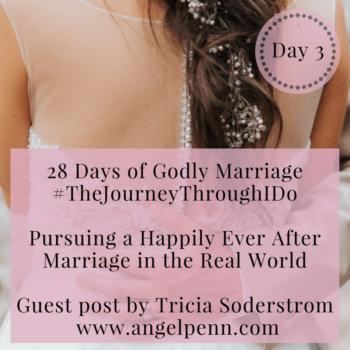 Read my post Pursuing a Happily Ever After Marriage in the Real World on Angel Penn's blog. Be sure to sign up for notifications so that you can read every post this month. They are well worth the time.