Budgeting your energy is not the same thing as managing your time. While we all need to manage our time wisely those of us with chronic illness don't have the luxury of knowing exactly how much usable time we'll have in a given day. That's why I prefer to budget my energy each day.
Regardless of whether you're very sick or in recovery, it is imperative to take control of each and every day. Guard your energy as if your life depends upon it or at least as if your health depends on it, because, it does!
Pushing Too Hard
During my recovery, I was always pushing myself too hard. I didn't allow for margin and would always take on way more than I ever should have. I am a mom to 4 and while we were all sick with Lyme I pushed myself in order to make sure everyone else's needs were met. I generally rested only when I was forced to because of my physical limitations.
With Lyme disease, you must guard your energy as if your health depends upon it because it does! #Lymedisease #Lymerecovery
Click To Tweet
Physical activity and even too much socialization can cause someone with chronic illness to crash physically, sometimes for days, causing an increase in fatigue and pain. I never understood this until I got sick with chronic Lyme disease and coinfections. Even now that I'm about 90% better, I tend to forget that I still have to be careful with my energy level and my physical endurance. If I do too much I'll end up having a lot of pain. Sometimes it takes days or even an entire week to recover.
Living Intentionally
As we go about our day we need to balance our energy levels by evaluating what we have to do for that day. We should plan out our days accordingly. It might be necessary to keep a detailed calendar, writing down to-dos and appointments. We must create margin in our lives for rest, play, quiet and friendship. Living intentionally means that we are not allowing our precious time to be wasted away but we are redeeming the time we've been given. It also doesn't mean that we spin our wheels furiously every waking minute working ourselves into exhaustion.
Physical activity and social events can cause someone with chronic Lyme to crash for days. #Lymedisease #spoonielife
Click To Tweet
What I Do
I might first sit down and make a long list of everything that needs to be done. Both big and small items go on this list. They can be things that need to be done right away and things that can wait but that I don't want to forget. That's my master list and my master list keeps me from worrying that I might forget something important.
That One Thing
Each night I take some time to map out my day for the next day. I begin by writing down what I need to do to, my scheduled appointments, and my most important thing. When I was first sick with Lyme disease I was so overwhelmed with all that needed to be done for my family. My husband always asked me, "what's the most important thing you have to do today?" and then he would tell me to just do that one thing.
Remember, if you're very sick right now, the most important thing for you to do might be to rest and to follow your treatment protocol.
In the evenings I also write in my gratitude journal to help focus my thoughts on my blessings. Sometimes it's hard for me to stay positive and so keeping a gratitude journal helps me to focus on the things that I'm grateful for. It's actually important for our mental well-being to focus on the positive, especially when our mood, emotions and physical limitations can make us feel like everything is wrong.
My Daily Routine
In the morning I wake up and try to take the first hour or so for myself. I shower, dress, do my hair and makeup and I even put jewelry on every single day. I think it's so important to invest that bit of energy to make myself look and feel nice with these simple self-care steps. I usually listen to sermon podcasts or an encouraging audiobook while I'm putting on my makeup and doing my hair. Next, I spend time doing gentle stretches as I'm able. Stretching after a hot shower is easier for me because my muscles are warm. I found that exercising is best in the afternoon after I've been moving for awhile. So I really just focus on stretching in the morning.
Energy management is more important than time management. #chronicillness #managinglife
Click To Tweet
My son and I always take the time to eat a healthy breakfast and get some fresh air each day. Never skip a meal and always make sure that everything you eat is leading toward healing.
Disclosure: This post may contain affiliate links which helps me keep my blog running. AIHWL is a participant in the Amazon Services LLC Associates Program. Please read my full disclosure.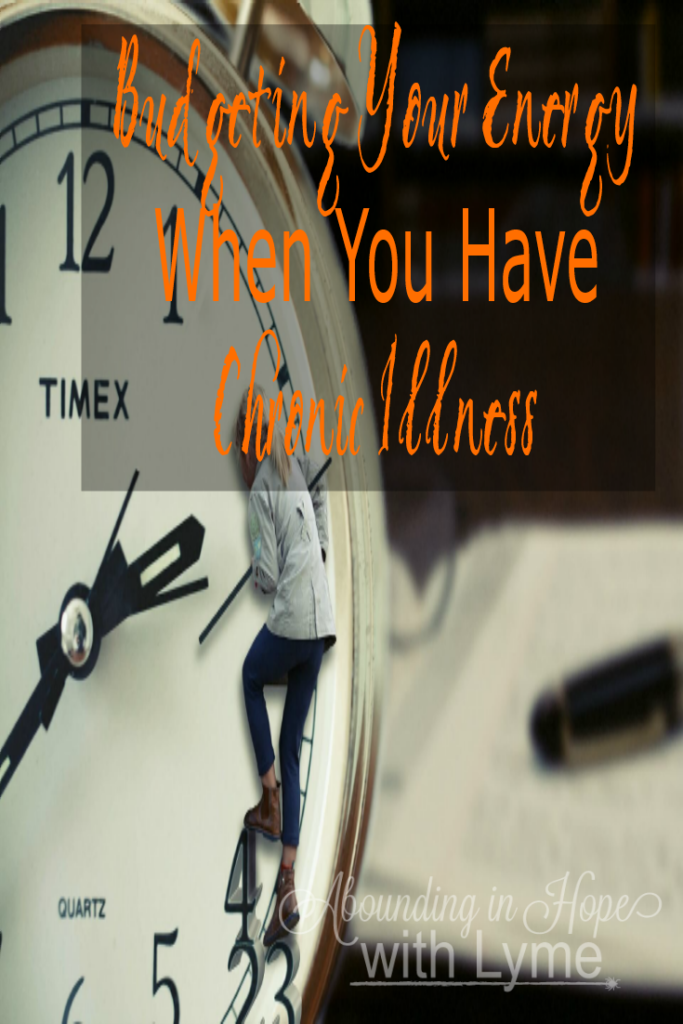 Once we get breakfast, straighten up the kitchen and I get my son started on school, I have a quiet time while he's doing his independent lessons. He's ten so he can work independently on some of his lessons. I like to sit in another room for privacy and during the Spring and Summer months, you can find me outside on my porch enjoying the sweet sounds of the birds. During this quiet time, I study and meditate on scripture and I pray. This important part of my day helps to set the tone for my day, encourages me and helps me manage my stress better.
What I Don't Do Anymore
I stopped waking up and immediately going through my long to-do list because that always made me feel overwhelmed and stressed before my day even began. Instead, I glance over my schedule, remind myself of that one thing and thank God that I'm well enough to do it. If I'm having a difficult health day, which is rare now, I'll ask Him for help to do what needs to get done. In my experience, the things that really needed to be done would get done by other family members because I asked God for help and He is always faithful.
I stopped multi-tasking. As I go about my day, I decide what needs my attention the most and focus on one thing at a time. Our brains don't multitask very well and multitasking actually creates stress. I've learned to pay careful attention to how I feel throughout the day and make adjustments as necessary. As much as I hate to stop during my day, I'm trying to be better about scheduling time in for a power nap when I need it.
If you have ever had Lyme disease you should always live as though you're in recovery in order to avoid a relapse. #lymedisease #aboundinginhopewithlyme
Click To Tweet
If you know you have a busy day, you may have to allow downtime the day before or after in order to have enough energy.  Budgeting your energy is similar to budgeting your dollars. If you only have a certain amount you should only spend that amount. If you begin charging things you will have a deficit and will be weighed down in debt before long. If we have a deficit of energy we will be weighed down with fatigue and pain. We could cause a relapse or make it difficult to progress in our healing.
If you have Lyme disease or have ever had Lyme disease you should always live as though you're in recovery because even though you might be in remission, you still need to take extra special care not to relapse. This is why it's so incredibly important for you to budget your time daily.