Recently I was asked if I would review Desert Essence Probiotic Hand Sanitizer. Well, y'all know that I don't like doing reviews unless it's a product I think you and I are both going to love. My first response to this was, "Most Definitely!" Why? Because I actually use Desert Essence products so I knew it had to be good and it's a hand sanitizer with probiotics! Enough said right? So I agreed to do a review of their probiotic hand sanitizer.

Disclosure: I received this product for free from Moms Meet (momsmeet.com) to use and post my honest opinions. Compensation for this post was provided and this page may contain affiliate links.
After I agreed I started thinking, "Really? Why would we need probiotics in our hand sanitizer!" So I did a bit of researching. Here's what I found out.
Disclosure: This post may contain affiliate links which helps me keep my blog running. AIHWL is a participant in the Amazon Services LLC Associates Program. Please read my full disclosure.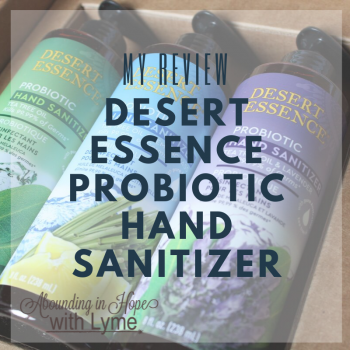 Why Probiotics in Hand Sanitizer?
Most hand sanitizers are alcohol-based and alcohol kills 99% of bacteria whether good or bad. I personally haven't used regular store-bought hand sanitizers in over fifteen years because they contain chemicals that are harmful, are said to disrupt your hormones, and if I can't understand what an ingredient is I'm not going to use it, especially on my child.
Scientific Studies about Probiotics in Hand Sanitizers
Did you know Scientific studies have shown that after hand washing, as many as 80% of individuals retain some pathogenic bacteria on their hands? Regular handwashing dries out the skin causing cracks which allow pathogens to enter into the body. Hand sanitizers, especially with moisturizers, are effective in reducing gastrointestinal illnesses in households, respiratory tract infections, and skin infections.
In this PubMed study, Impact of a Probiotic-Based Cleaning Intervention on the Microbiota Ecosystem of the Hospital Surfaces, it was found that cleansers containing probiotics were active not only in controlling surface microbial contamination but also in lowering drug-resistant species.
It's important to note that there aren't any peer review studies specifically on probiotic-based hand sanitizers, but does that really matter? Many of the wonderful natural therapies and products I trust and use every day don't have peer reviews, they have consumer reviews and sometimes that's more important.
What to Love About This Product
Essential Oils
The beautiful thing about Desert Essence Probiotic Hand Sanitizer is that they include tea tree oil and other essential oils in their products. Most of us know and trust that essential oils are extremely powerful antimicrobials. I have been making my own essential oil-based hand sanitizer for years. I know they work because my family doesn't get sick when everyone else does.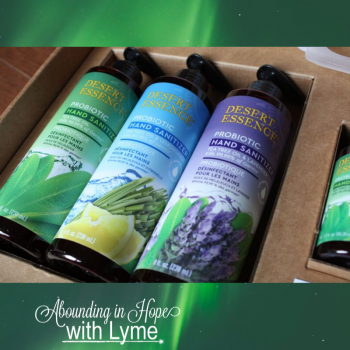 What it's Missing
Desert Essence Probiotic Hand Sanitizer does NOT test on animals and here's what else is missing!
No Animal-Derived Ingredients
No Parabens
Artificial Fragrances
Dyes
Mineral Oil
Petrolatum or Parafin
SLS, PEGs, PPG, MEA, DEA, TEA
Propylene Glycol
Phthalates
My Desert Essence Review Box
When my box arrived I received three large bottles and three small bottles along with a hand sanitizer holder to hook onto a backpack or purse and the most beautiful, sturdy Desert Essence Bag along with a cosmetic bag. The three essential oil combinations I received were Tea Tree, Tea Tree with Lemongrass and Tea Tree with Lavender.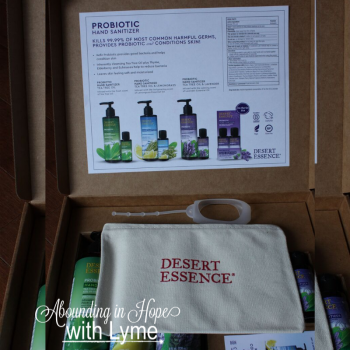 Two of my daughters immediately started grabbing and smelling and trying right along with me.
What I Think
First I opened the bottles and smelled each one. I loved the Tea Tree with Lavender and Tea Tree with Lemongrass. My oldest daughter really loved the plain Tea Tree and took the large bottle with her to work. My youngest daughter also likes the plain Tea Tree and she strapped the small bottle into the holder and attached it to her backpack that she takes to college.
When I tried the hand sanitizer I could not believe how moisturizing it was. So not only did it smell great but it left my hands feeling silky soft. That's important especially in the fall and winter when everything dries out. This hand sanitizer is not sticky, it dries quickly and leaves a lovely scent afterward. The scent is definitely fragrant at first. I'm very sensitive to smells but this doesn't bother me.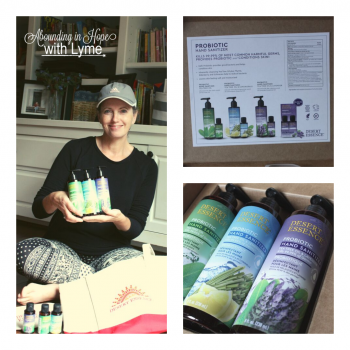 I've been taking the hand sanitizer with me to homeschool co-op, church, and everywhere else I need to go. Even if I wash my hands I squirt a bit of hand sanitizer on for extra measure. Especially after reading that hand sanitizer works better than hand washing to prevent illnesses
What My Daughters Think
Here's a direct quote from my oldest daughter.
"I love this hand sanitizer! I work in a doctor's office giving shots all day and coming in contact with tons of people! I don't have time to wash my hands after every person so I rely on hand sanitizer between patients. Purell is EVERYWHERE but I would so much rather use a product that has safe ingredients that I can trust to actually kill bad bacteria.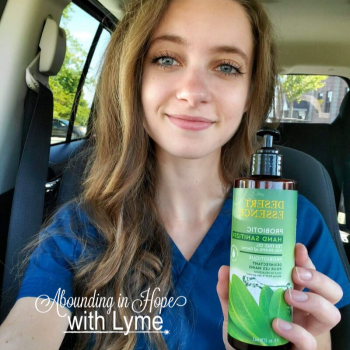 Ever since I brought this hand sanitizer to work I can't get over how soft it makes my hands. You only need the tiniest amount. It dries quickly and smells clean and fresh. My co-workers also love it. One nurse didn't even like the smell but she kept sneaking some because of how soft it made her hands.
I will definitely continue using this product!"
My younger daughter loves the hand sanitizer. She has always preferred natural products and she was pretty happy when I told her to choose which bottle she would like to use.
About Desert Essence Probiotic Hand Sanitizer
This pure, potent hand sanitizer kills 99.99% of germs while delivering
good bacteria courtesy of probiotic-packed Kefir, which nourishes and
conditions the skin.
Uses patented technology to create a "membrane" around the
probiotic to protect it from the antibacterial formula. Probiotic benefits
will be delivered after the sanitizer activity completes. This means the
sanitizer doesn't kill the probiotic, and the probiotic doesn't neutralize
the sanitizer. The bad bacteria is eliminated, and the probiotic thrives.
A powerful combination of botanical extracts including Tea Tree Oil,
Thyme, Elderberry, and Echinacea also help reduce bacteria.
A 1.7 oz bottle of Desert Essence Probiotic Hand Sanitizer typically
retails for $4.49 and an 8 oz bottle typically retails for $9.99.
Where to Find it and How to Buy Your Own
So, there you have it. The three of us love Desert Essence Probiotic Hand Sanitizer. They have graciously offered a discount so you can get your own bottle!
Use Promo Code DEprobioticpower to get 30% off Desert Essence Probiotic Hand Sanitizers by clicking here or visiting desertessence.com.
Where to purchase
Desert Essence Probiotic Hand Sanitizer is available to purchase at desertessence.com. Visit desertessence.com/store-locator for the full list of locations.
What Do You Think?
Have you used this hand sanitizer before? Let me know in the comments what you think.