My recent guest post, Pursuing a Happily Ever Marriage in the Real World has become one of my most popular posts. If you haven't read it you can find it on Angel Penn's website here.
Writing a marriage post is not an easy thing to do. It's probably why I don't do it very often. Apparently, posts on marriage are very much wanted and quite frankly, I'm overwhelmed with the number of post hits and shares on social media that my post has gotten. When I wrote it I just wanted to be real with you guys while still protecting my marriage and respecting my husband. I'm the first to admit that I don't have it all together and yes my husband and I have disagreements and sometimes those turn into arguments. Thankfully, the closer we get to Jesus and the longer we've been together, those arguments happen much less frequently.
One Another's
We both strive to put God first, both in our individual lives but also in our marriage, I'm convinced that is the key to a long and happy marriage. Years ago, a friend of mine gave me a very long list of One Another's that she had hanging on her refrigerator. She used her list to teach her children how to love and interact with one another. I was really impressed by this list. It's very clear that God tells us how to interact with one another and how to love one another.
Disclosure: This post may contain affiliate links which helps me keep my blog running. AIHWL is a participant in the Amazon Services LLC Associates Program. Please read my full disclosure.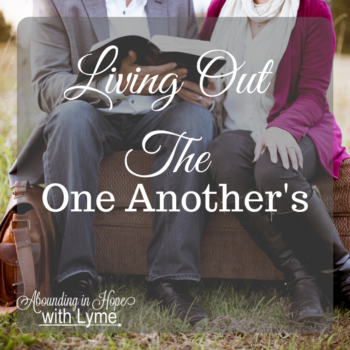 I lost the list that my friend gave me years ago, but as I prepared my guest post about marriage, I knew that I had to include at least some of the "one another's" in my post. If you're ever looking for a keyword in scripture, the easiest way to find them is by doing a word search using an online Bible. I didn't include every One Another verse in my list so if you want the exhaustive list, I encourage you to do your own word study search.
The feedback I've gotten over this list of One Another's has been incredible and because you loved it so much, I decided to create these printables for your personal use. I hope you like them, print them, stick them in your Bible, journal or even frame them. You can even share them with your friends, just let them know where you got them from.
Living the One Another's
Use these printables to remind you of how you should treat others, especially your husband. You can use these scriptures during your scripture memory time, to teach your children how to treat their friends or siblings or hang them in your home so that each time you or a family member walks by you each will be reminded of how God wants us to treat each other.
Printables
Click on the image you would like to download and you'll be taken to a google doc file. From there, just click download. Find your download easily by opening up the Download Folder or wherever your settings have designated your downloads to go.