In the world of Lyme disease, we can sometimes be a little too narrowly focused when it comes to what's causing our symptoms and how we should be treating. Thankfully, Lyme is not as hush-hush as it was when I was suffering and researching for help years ago. Information is more readily available and the world of natural medicine has also become more available to us. We know that Lyme disease affects every system and every organ and as a result, you might need amino acids so I recommend you take this quiz.
Amino Acids & Testing
I was first introduced to the idea of amino acids back in 2013 through a YouTube video I found by Dr. Dietrich Klinghardt where he discussed Children, Lyme disease, Pyrolouria, and Anxiety. I learned about its safety, how he was using them to help children who suffered from severe anxiety and I chose to give her some to see if it would help because I wasn't getting the help I needed from our doctor.
GABA
I introduced GABA and l-theanine to my daughter who was struggling with Lyme disease, Bartonella, Babesia WA-1 Duncani, and PANS.
Not too long after, I found The Anxiety Summit by Trudy Scott and began reading her blog Every Woman Over 29. I followed her on FB and answered one of her questions about GABA and Lyme disease because I had been using it for my daughter. GABA was helping her and me. You can find out more in my interview with Trudy during the Anxiety Summit Season 3.
If you're struggling with mood, anxiety, pain, or depression take Trudy's quiz to see if amino acids might help you.
Anxiety and Lyme Disease
Lyme disease is just one example of an infection that can play a role in anxiety disorders such as panic disorder, social anxiety disorder, generalized anxiety disorder, posttraumatic stress disorder, and intrusive symptoms.
It can be frustrating and time-consuming to determine if you have Lyme disease. While tackling Lyme, there are targeted, supportive solutions that you can implement to get anxiety relief quickly! I know from personal experience with Lyme anxiety both in myself and my daughters.
Disclosure: This post may contain affiliate links which helps me keep my blog running. AIHWL is a participant in the Amazon Services LLC Associates Program. Please read my full

disclosure

.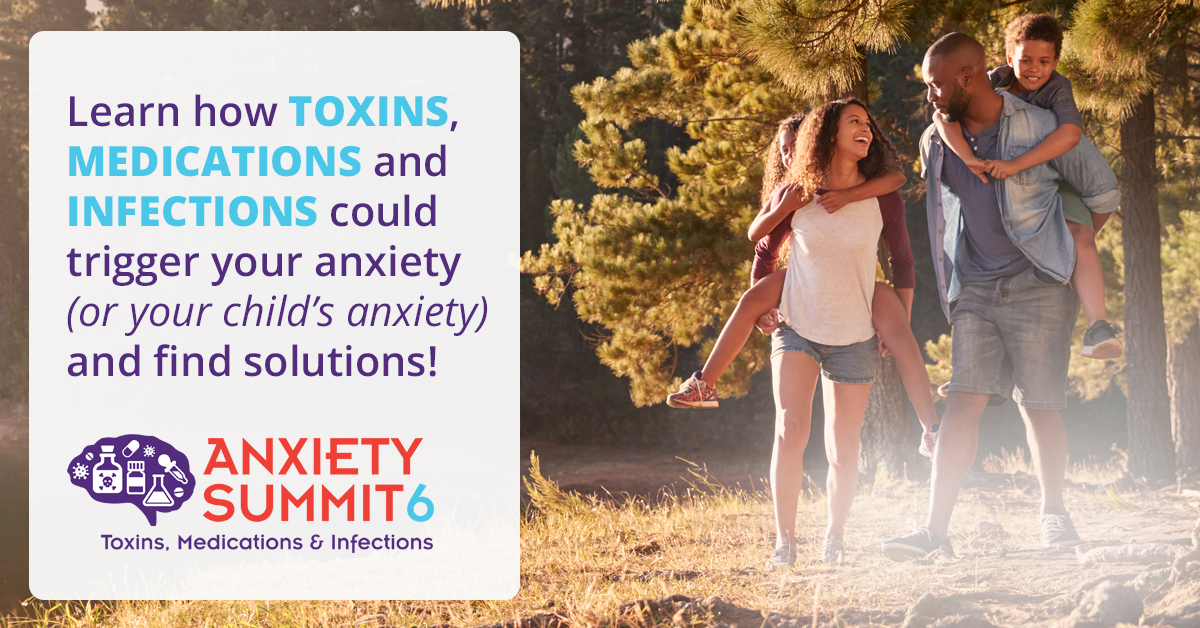 If  Lyme or another sort of infection is suspected, there are research-based solutions and practical steps to determine the root causes of your anxiety.
Join me at the complimentary and online Anxiety Summit 6 to learn more!
The Anxiety Summit 6
Your host, Food Mood Expert and certified nutritionist Trudy Scott, is the author of The Antianxiety Food Solution. She educates anxious individuals and practitioners about nutritional solutions for anxiety. This is her 6th Anxiety Summit, featuring all-new topics and the latest research related to anxiety and toxins, medications, and infections.
Trudy also experienced many of these health challenges herself — lead and mercury toxicity, gluten issues, candida — and is currently dealing with chronic Lyme disease and dietary oxalate issues. She is passionate about sharing these solutions because she experienced the results first-hand, finding complete resolution of her anxiety and panic attacks in her late 30s.
Register for Free
If you're looking to learn more about mood health and anxiety be sure to register for free to listen to the upcoming Anxiety Summit Season 6.
I hope you'll join me. I always learn so much from these summits and the Anxiety Summit is always one of my favorites every year.