Disclosure: This post may contain affiliate links which helps me keep my blog running. AIHWL is a participant in the Amazon Services LLC Associates Program. Please read my full disclosure.
If you've ever been in the hospital for any length of time, you know there are certain things you need. In March I spent over a week in the hospital when my colon ruptured. I had never been in the hospital for this length of time. Because this was completely unexpected I didn't have any personal items other than my purse. As I lie there in the hospital bed waiting for the surgeon to come in to talk to me I began making a list. I came up with these 14 important things I needed while I was in the hospital.
14 Important Things I Needed In The Hospital
Now that I'm preparing for my next surgery I'm reviewing my list of what I'm going to pack.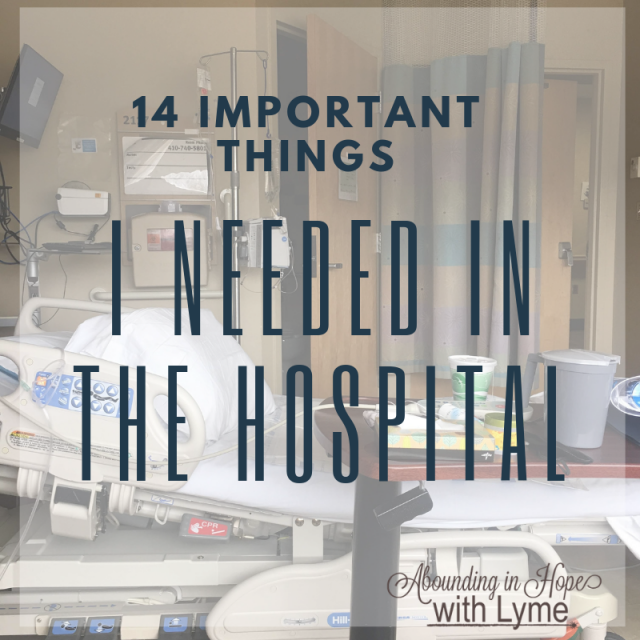 Here's what's on my list:
 1. A lightweight robe. There's nothing more uncomfortable than walking to the bathroom or through the halls with a double gown on. It would be much easier and more comfortable to have my own robe. I'm taking an older robe so that if it gets stained I won't be too worried about it.
 2. My fluffy blanket. As much as the nurses tried to keep me warm, I needed more. My blood pressure was extremely low after surgery so my blanket was a godsend for extra warmth. Not only that, it was actually comforting having my own blanket.
3. Hand cream. Wow, I had no idea how dried out a person can get in the hospital. My skin was so dry and starting to get crackly. I was so glad that I just bought a tube a Nivea hand cream.
 4. A nail file. Maybe it was all the saline they pumped into me but my nails grew like crazy during the week I was in the hospital and they were a bit jagged.
  5. My cell phone.  This was my lifeline out of the hospital. I really appreciated every text, phone call, and social media message that I got. I listened to music and late in the night when fear struck I found a few very comforting YouTube videos that contained calming scripture filled music.
  6. An extra-long cell phone chord. My cell phone chord reached the bed but if I unplugged it from my phone, it fell to the dirty floor. I asked the nurse for a piece of medical tape and taped the chord to my bed. Next time I will have an extra-long chord. It would be nice if there was a USB charging adapter in the bed.
  7. Chamomile and Peppermint tea bags. After my long surgery, my throat was so sore and I struggled with nausea. I longed for a soothing cup of tea but the only thing the hospital had was black tea. I'm taking chamomile and peppermint tea bags because both of those are soothing to the throat and also the gut.
  8. My Bible. This was my lifeline both as I waited for my surgery and afterward as I dealt with the emotions of having a colostomy. Reading God's Word brought me so much comfort and peace.
  9. My tablet. The hospital television in my room didn't have very many channels. The ones they did have were stressful. I would much rather have my tablet so that I can choose what I watch using Netflix, PureFlix, or Amazon Prime.
  10. A spray bottle. I'm a curly girl, meaning, I have crazy curly hair. I wasn't allowed to take a shower the entire time I was in the hospital. That was an entire week! I felt so gross even though I freshened up each day with the washrag I wasn't able to do much for my hair. At least with a spray bottle, I can spritz my hair and freshen it up.
 11. Facial Cleansing Wipes. Facial cleansing wipes are an easy way to freshen & cleanse my face especially when waiting for staff to bring me new washcloths. I think they forgot about me.
 12. Face cream. Did I tell you already how dry my skin was? It was horrible. Face cream was an absolute necessity.
 13. Comfortable stretchy clothes for going home in. I had no earthly idea of how swollen my body would get after surgery. Plus, when I went to the ER I had no idea I was going to be having surgery. So, this time around I will be packing comfy, stretchy clothes because they're a necessity especially if you have stitches.
 14. Food. I was so grossed out by the food that the hospital offered me after my colon surgery. I personally didn't feel that someone who just had colon surgery should be allowed to eat hard to digest foods. The chicken bouillon was the only thing I really appreciated because it was the first thing I was able to eat/drink in a week. After that, the food was tasteless, rubbery, and gross. This time around, I'm having my husband bring me homemade chicken broth, soup, gluten-free crackers and a few other easy to digest healthy food.
Hopefully, my next surgery will be uneventful and I won't have to stay in the hospital for very long, but if I do, I'll have what I need. These 14 important things I needed in the hospital might be helpful ideas for filling up a basket for someone who is in the hospital.