Not too long after I celebrated my 50th birthday, I found myself facing a very unexpected, life-saving surgery to repair a ruptured colon, remove a large abscess, and a huge raging infection. What I thought was an episode of constipation turned into an event that almost took my life.
How It All Happened
The week before my surgery my husband rushed me to our local ER twice because I was having severe abdominal pain, nausea, vomiting, and lightheadedness. This pain was like nothing I had ever experienced before and I honestly thought I was going to die. After an examination, pain meds and CAT scan I was sent home with the diagnosis of mild diverticulitis.
Disclosure: This post may contain affiliate links which helps me keep my blog running. AIHWL is a participant in the Amazon Services LLC Associates Program. Please read my full disclosure.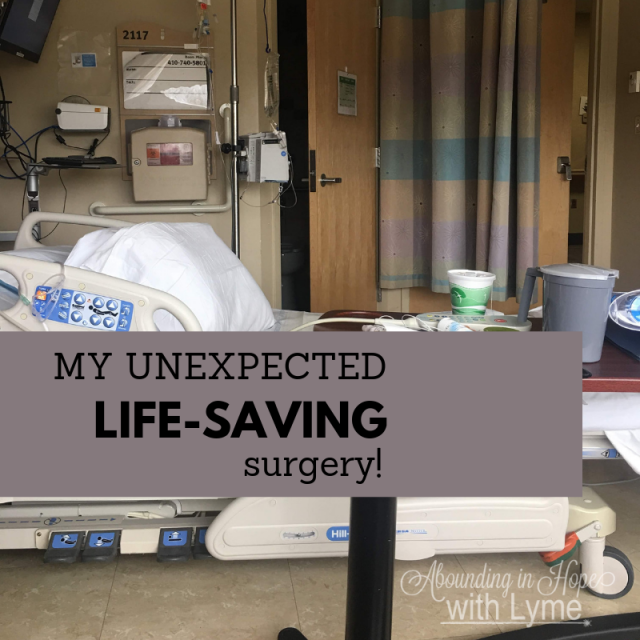 My husband and I read about mild diverticulitis and followed the ER doctors advice to take a laxative. We read that mild diverticulitis could be managed through bowel rest and specific foods.
The Laxative made me much sicker and my pain was still horrible. By the time I could get to my primary doctor it was almost a week later. She was incredibly worried about me because I was still in so much pain, I had not eaten in over a week and I was very sick. She expressed her concern and told me that I need to go directly to the hospital closest to her office, which is an hour away from home. The emergency room doctor repeated the CAT scan and immediately admitted me to the hospital. I was told that I had an abscess and would need to have surgery.
Body Betrayal
Did you know that over 200,000 people are diagnosed with diverticulitis every year!
At the end of 2017, I began doing everything I could to regain my strength and health from years of chronic Lyme disease and coinfections. I was exercising every day, eating as healthily as I could and was really focusing on getting strong and healthy. My gut was doing great and I was ready to up my game in the fitness area by adding in strength training.
Over 200,000 people are diagnosed with diverticulitis every year! #diverticulitis #awareness #guthealth
Click To Tweet
As I lay there in the hospital bed I felt so incredibly betrayed by my body! Wasn't I doing everything I could to stay healthy? Sure, I cheated here and there and had gluten but isn't that ok? I spent more time focusing on my health than so many others, why did this happen to me and not them?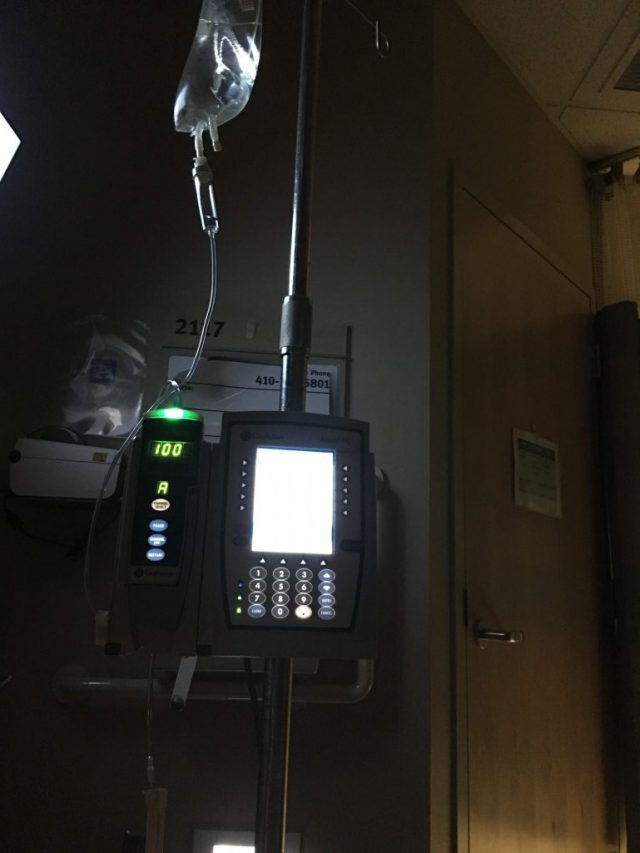 Was This My Fault?
My thoughts just kept twirling around my head and the more I thought about it the more I felt completely betrayed. I began to feel so unsure of everything I thought I knew. I carefully thought through my lifestyle, all the supplements I was taking, and the stress in my life to try to figure out what I did wrong. In the end, I condemned myself for allowing this to happen, I should have been more observant, more careful, more knowledgeable. Why didn't I know that I had diverticulitis?
Second Opinion
The next morning the surgeon came into my room and explained that my sigmoid colon had diverticulitis and that it had caused that area to become weak. When an infection is not taken care of that weakness allows it to rupture. He said that because I am healthy and strong my body created an abscess, the alternative is sepsis. As he explained the type of surgery I would need and that I may end up with a temporary colostomy bag I felt as though he was speaking through me to someone else. This couldn't possibly be happening to me! My response to him was literally, "Wait, what are you telling me?"
As my husband and I discussed the surgery details with the surgeon we found out that the surgeon was a general surgeon. In the meantime, I had been texting my friend from church who is also my pastor's wife and a Physician's Assistant. She suggested finding out more details about who the surgeon was and even possibly transferring hospitals, she knew this surgery was serious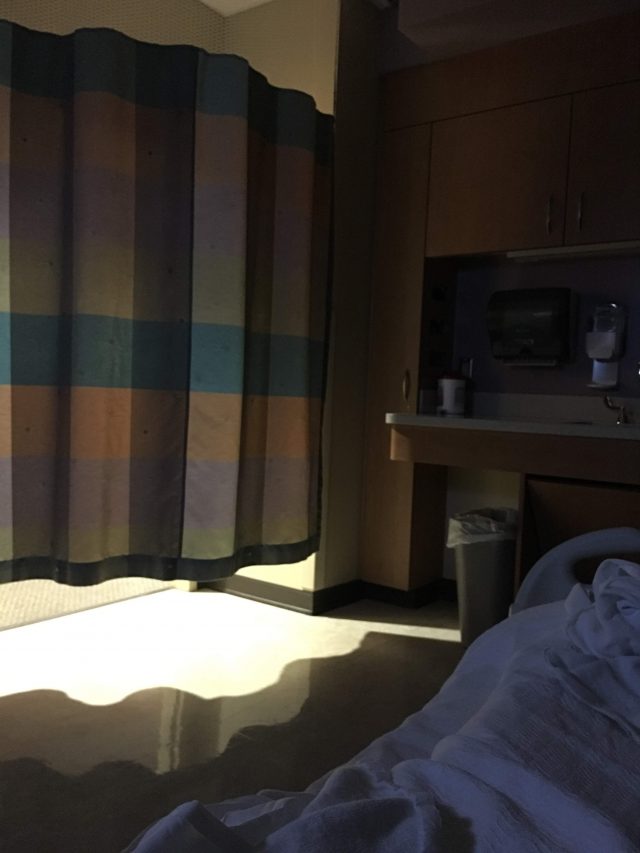 My husband and I were also very concerned and once we realized this gentleman was a general surgeon we requested a second opinion with a specialist. My husband was already on the phone with the insurance company making sure this hospital and the surgeons were part of our insurance network. He also had everything set up for a hospital transfer if a specialist for colon surgery wasn't available.
It all seemed to happen so quickly, a specialist was available and concurred with the surgery and thankfully, she just happened to be a specialist who primarily uses laparoscopic surgery whenever she can. I felt she was competent, skilled and caring and so we moved forward with the surgery.
Surgery
Surgery was only supposed to take three hours but those short three hours turned out to be a very long, complicated surgery lasting nine hours. My abscess was large and my infection was very serious and was throughout my lower intestines and colon. The surgeon started out laparoscopically but I did end up having a bikini cut because of the severity of the infection.
This was so much better than what the general surgeon was going to do. He had planned to cut me from my sternum to my lower abdomen. That recovery would have been much more difficult.
I had to have part of my sigmoid colon removed as well as part of my intestines and because the surgery was so intense and so long I had to have a colostomy, which allows the colon to rest and heal. Hopefully, in four months I can have surgery again to reconnect everything.
The Emotional Aspect
I'm not going to lie, this is probably the most difficult thing I've ever gone through. I'm so thankful the surgeon was able to save my life but I'm devastated that I have to live with a colostomy for the next four months or more. I know hundreds of thousands of people live with them for their entire lives but I don't want to! I'm sad, I'm angry, I'm humbled.
Can I just be real with you? I've cried a lot of ugly tears! Some mornings I wake up believing I can conquer anything and other days I just don't want to. I don't want to be strong anymore, I don't want to put on a happy face, and I don't want to look for the positive. But then I'm incredibly thankful I'm alive!
Struggling with an Ostomy
When I first learned I had an ostomy I didn't want to look. I wanted to pretend like it didn't happen. One of the surgeons who came to check on me told me that it's ok to be upset. He said that he knows that this is hard but to remember that it's temporary.
The nurses were also very encouraging. When I grossed out over the noises my new body was making or over the process for cleaning this new apparatus, each nurse was tender and shared with me how incredibly amazing the human body is. They didn't treat me like a freak but they encouraged me to look at this as the thing that saved my life. I know that my mindset will make all the difference for how I walk this trial and I'll get there, I know I will but it is hard.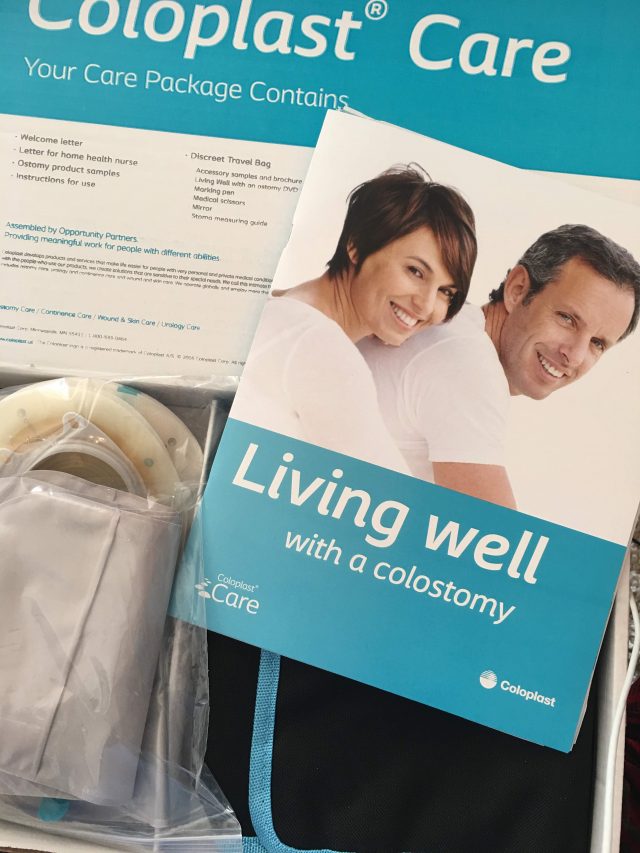 As I did a little research I was astonished to find out that there are around 500,000 people in our country who currently have some sort of ostomy. Somehow, knowing that children, teens, and adults young and old live with an ostomy bag, makes it a little easier for me. I know I'm not alone and for me, this should be temporary, for many others it is not.
The United Ostomy Association estimates that slightly more than 500,000 Americans now have some type of stoma. #ostomyawareness
Click To Tweet
Healing
I'm healing well! The days following my surgery the surgeons, doctors, and hospital staff were amazed at how quickly I progressed. because my surgery was mostly done laparoscopically I didn't need a drainage port and I didn't have a sever cut down my abdomen.
The surgeon allowed me to go home four days later. I'm certain that I was able to endure this long surgery so well because I was exercising consistently and taking such good care of myself before this happened.
I'm not going to sugar coat this! The first week following my surgery was pretty rough, the pain and nausea were intense.
Now that I'm approaching two weeks post-op I am not in as much pain. I'm able to walk around and I'm doing my best not to go stir crazy. We've had beautiful weather in Maryland so I've been spending quite a bit of time sitting on my deck listening to the birds.
I have a long recovery and a second surgery in my near future so I plan to focus on regaining as much strength as I can before then.
How Did This Happen?
While my condition and surgery caught me totally off guard, I know that it didn't catch God off guard. Nothing surprises him and he wasn't sleeping.
He was with me the entire time. I felt God's presence the entire time, I watched as he moved mountains, and I thanked him for every angel he placed in my presence to care for me. As I recover, I know that he will heap upon me the grace that I need to walk through these changes, to relish in the rest time and to reflect on my future.
You Were So Healthy
Everyone has been asking me how this could have happened to me since I am so careful with my health. Some wonder if having had Lyme disease had anything to do with it. Diverticulitis can be genetic and is usually caused by a low fiber diet and constipation.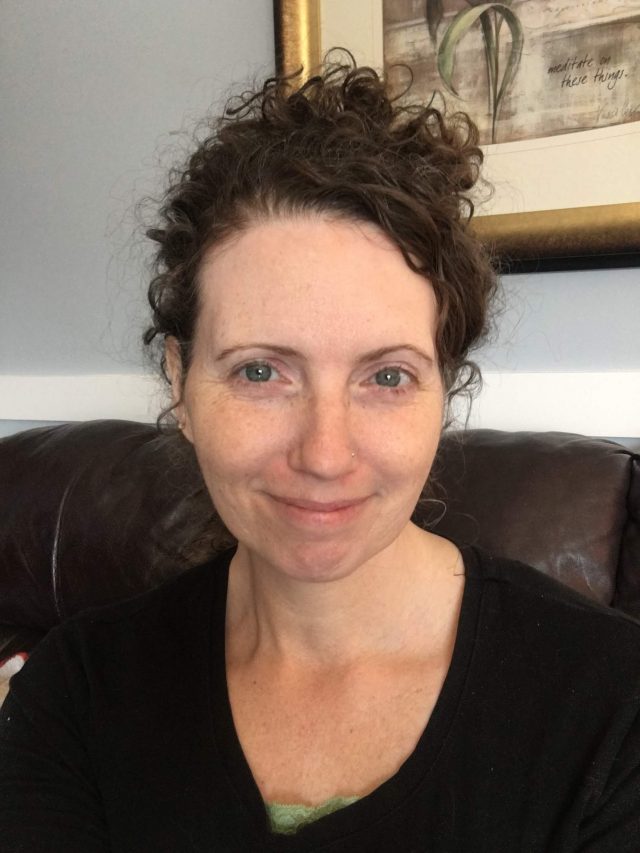 Was it Lyme?
I took high doses of antibiotics for over four and a half years for Lyme disease and I'm certain that it compromised my gut health. I also had IBS for years before Lyme disease due to a high-stress lifestyle and a not so great diet.
For the past five-plus years I've worked hard to recover my gut health, unfortunately, the damage was already done. I'm super sensitive to supplement fillers as well as ingredients in binders that I was using for mold toxins. When I began to have constipation I didn't stop and take corrective measures because I was so busy. Things are going to be much different for me in the future.
What You Can Do to Prevent This
If you have any gastrointestinal symptoms, don't wait to get it checked out. Don't assume that constipation isn't a big deal because it is. Do something immediately to correct it!
A low fiber diet combined with constipation are the primary causes of diverticulitis. If you have been on long-term antibiotics for Lyme, do whatever you can to heal your gut and take it seriously!
When given the choice between antibiotics to treat Lyme or natural healing modalities like herbs or homeopathy, choose the one with the least amount of side effects.
There's not a day that goes by that I don't regret subjecting myself and my children to high doses of antibiotics.
There are many articles online discussing gut health and the immune system.
When your gut is healthy you can more easily recover from Lyme disease.
If you have a diverticulitis flare, be sure to get the proper treatment. Don't allow the ER docs to just send you home. Insist on the medication needed to prevent an infection. It just may be that you need an IV of antibiotics. That short course is much better than the alternative!