I am a woman who spent years suffering from a very serious case of neurological Lyme disease, Babesia, Bartonella, Chronic Epstein Barr Virus, Mast Cell Activation Syndrome, and mold toxicity. I have argued with doctors, fought with the insurance company, and researched for hundreds if not thousands of hours in order to figure out how to heal and overcome these very serious and debilitating health challenges.
Not only did I have to literally battle for my own health but also for the health of my children who were also plagued with these diseases that no one wanted to acknowledge or treat! I'm no foreigner to the medical malpractice that begins the moment you mention Lyme disease!
DO NOT TAKE THIS POST AS MEDICAL ADVICE! I'M SIMPLY SHARING MY PERSONAL EXPERIENCE. I AM NOT A DOCTOR AND CANNOT RECOMMEND TREATMENT, DIAGNOSE OR TREAT ANY ILLNESS. ALWAYS SEEK THE ADVICE OF YOUR DOCTOR!
Disclosure: This post may contain affiliate links which helps me keep my blog running. AIHWL is a participant in the Amazon Services LLC Associates Program. Please read my full disclosure.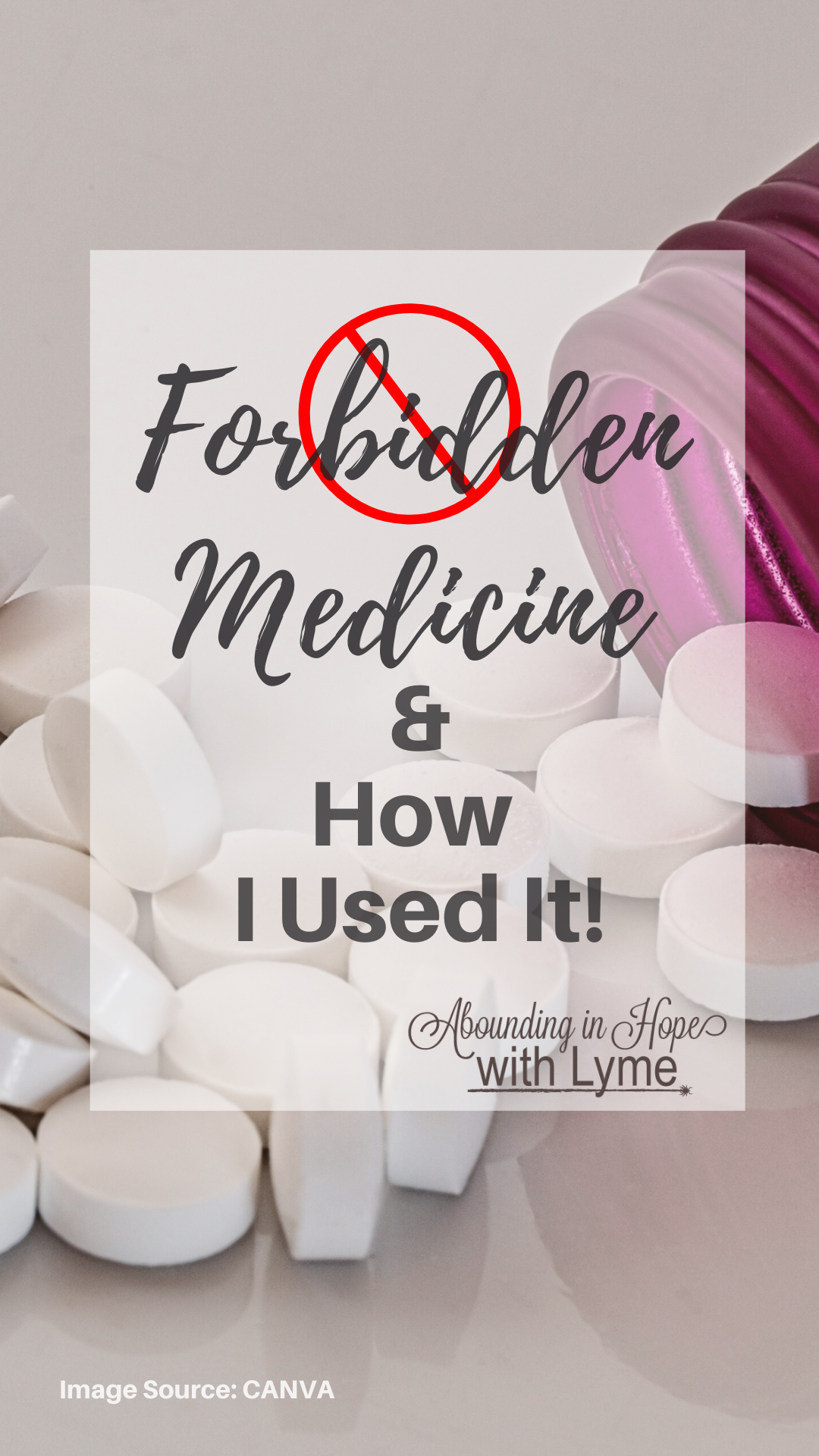 Because of my past experience with the medical community and pharmaceutical industry, I believe that one must take their health and well-being into their own hands. I don't trust what I'm told by them and it's taken me a very long time to find a team of doctors both traditional and natural that I can trust.
I believe that God has given us everything we need to heal and overcome illnesses and so I don't often turn to traditional medicine. That and the fact that I have serious side effects every time I take medicine or even supplements with junk ingredients.
Allergies or Something Else?
It was the second week of August and I noticed my throat was incredibly sore. My nose was very drippy and  I thought for sure I was suffering from fall allergies. The very next morning my throat was so severely swollen and painful I couldn't swallow without drinking something very cold. My nose was running like a sieve and I was getting a migraine. I began sneezing a lot too which wasn't helping my migraine in the least.
Just as I realized I was actually sick I got a text message from my friend telling me that she and her husband tested positive for COVID. I had been around them almost daily for the past week.
We began comparing symptoms. Her husband's symptoms were slightly different than hers. He had a fever and was in bed. She did not have a fever and was up taking care of the children. She has asthma and was already trying to get rid of a common cold that she had picked up previously.
I had similar symptoms but not everything. I had a horrible migraine and my throat was unbearable. My husband purchased an over-the-counter rapid COVID test. I took it immediately! As I waited it reminded me of those pregnancy tests back in the day. I waited for fifteen minutes to see if the little pink line would show up in the window. It was negative!
The next day my daughter asked me if I would take the second test, just to make sure because she was moving and didn't want to risk taking COVID with her. The second test was also negative.
COVID TESTS
It's important to note that the at-home rapid COVID tests are not that accurate. I had read that they're 80% accurate, my naturopath said they're more like 50% accurate.
Sounds a lot like the Lyme disease test doesn't it?
PCR tests are also not accurate. This post is not about testing but I would recommend that you do some research before subjecting yourself to this test.
It's also important to find out if the swabs are made in China and sterilized with EO or Ethylene Oxide. This is a toxic, cancer-causing ingredient that gets put up your sinus cavity right next to your brain!
Please watch this video by Cassandra Dunn who is a Registered Nurse and a Certified Medical Investigator.
My Experience
For the next three days, I lay in bed with very intense symptoms. I'm not going to lie, I had a few moments of fear! Even though my tests were negative I had every symptom for the Delta variant. I did not have a cough, however, but my chest felt raspy and heavy.
At times I felt a bit frightened because my immune system has been weak. I have not fully recovered from when the ER doctors allowed my colon to rupture requiring two very long, intense surgeries. I also have autoimmune issues that were brought on from having had chronic tick-borne infections that could potentially complicate healing.
Trust God and Do Not Fear
Rather than dwell on that I began to pray and thank God that my days are in His hands.
COVID is not as devastating as the media plays it out to be and neither is the Delta variant. If you listen closely the news screams reports of cases or how easily it is transmitted. The deaths they report on are also not being reported accurately either!
For many who get COVID, they will only have mild symptoms, some people don't even know they have it, and others will get pretty sick but not enough to go to the hospital.
Sometimes the fears in our head make us feel like what we're going through is actually worse than it really is.
Click To Tweet
Sometimes the fears in our head make us feel like what we're going through is actually worse than it really is. If you're listening to the news then you will surely be more afraid than you need to be. They have done an excellent job of making us all believe that COVID is a death sentence for everyone and the truth is, it is not!
Most of the adult population has a 99.998% survival rate and it's practically 100% in children.
COVID is To Be Taken Seriously
Just like with Lyme disease, I will take appropriate precautions to avoid getting or transmitting COVID but living in fear is not an option.
I'm not saying that COVID isn't serious for some, especially those with other serious health challenges. I have friends who have lost loved ones and others whose lives were interrupted by long hospital stays and difficult recoveries.
From what I have read and the physicians I've heard speak on the matter, many if not most of these deaths could have been prevented if early treatment options were made available. One physician said that 87% of deaths could have been prevented with early treatment.
My friend could not even get her asthma medication from the Emergency Room because it was not an approved COVID treatment! They would not offer her anything except a treatment that has not even been approved by the FDA for anything!
I believe COVID is to be taken seriously which is why I firmly believe that the first line of defense is to work on our immune system, to make sure our medicine cabinet is ready, and to eat the most nutritious and nutrient-dense foods that you can.
Food is Medicine
Side note, it's much cheaper to fill up your basket with dark leafy greens, rainbow-colored veggies, and purified water than it is to purchase freezer meals, mac-n-cheese, and sodas!
I'm always amazed when people tell me they can't afford to eat healthily but they purchase prepackaged non-food and get their nails and hair done on the regular.
Eating nutritiously doesn't mean purchasing the glammed-out organic boxed or canned foods. It means loading your cart with fresh veggies and fruit which is by far cheaper and much better for you!
Building My Immune System
The weekend before I got sick I had traveled to Virginia to my naturopath's office for a Myer's cocktail and a mineral IV infusion. I'm so thankful that I did because I'm sure it helped my immune system fight off whatever it was that I had.
I strive to get outside and get natural sunlight every day! I take specific supplements that my naturopath and I decided would be best for me. If you're interested in what I'm taking right now I would be happy to create a post sharing the specific brands.
My Protocol
*DO NOT USE ANY OF THESE SUPPLEMENTS WITHOUT FIRST CONSULTING YOUR DOCTOR!
I've been drinking pine needle tea for immune health, vitamin C, and respiratory strength. Maybe this is why I didn't have a cough? I don't know!
I take 5,000 IU Vitamin D3, NAC, Quercitin, Red Yeast Rice, a multi-vitamin, zinc, and Vitamin C.
While I was sick I increased my D3, Vitamin C, and took NAC twice a day instead of once.
On the third day I was sick I got a text from a friend who sent me a protocol for using Ivermectin Horse Paste for COVID.
For the past 15- years I have read about Lyme sufferers using horse paste long-term for Lyme and co-infections with great success. Oftentimes, a person can't get a prescription for one reason or another so they take the horse paste. Many doctors will not prescribe it, the person may not have health insurance, or they may not be able to afford expensive medications.
How I Used Ivermectin
When my friend sent me the data, the supporting medical studies, and instructions for exactly how to use it I decided to go ahead and try it. I know, I know! I risk sharing this with you because you may think I'm crazy and completely unsubscribe! Although, if you've made it this far in the post maybe we're kindred spirits?
But I'm Not a Horse
I preordered the horse paste from our local farm store and my husband went to pick it up. Now mind you, this was on a Sunday. I'm lying in bed more miserable than I've been in a long time. I wanted to feel better.
Horse paste is $6. (As I write this post I'm finding crazy highjacked prices on Amazon and the farm store I purchased it from is completely out of the brand I bought.)
A prescription through America's Frontline Doctor's could be $100 maybe more. If you have a doctor who is willing to prescribe it you'll need to call your local pharmacy to see if they'll fill it, many are not. Otherwise, you'll have to order it through a compounding pharmacy and it can be quite costly.
While I waited for my husband to return, I researched the best I could through a pounding migraine. I watched YouTube video after video. Even after my husband brought in the "stash", I laid there in bed staring at it and researching! I'm super sensitive to medication and the last thing I needed was an adverse reaction while I felt so miserable.
Everything I read showed that this medication was completely safe, had no side effects when taken at the correct dosing, and it tasted bitter and gross. I avoided the taste after the first dose by dropping my allotted paste into a glass of water. I stirred it wildly and then drank it immediately.
With my husband cheering me on and my friend sending me horse Gifs, I took my first dose that evening. By morning it was nothing short of a miracle. The difference I felt was dramatic.
The only thing I noticed that I was even remotely concerned about was a burning pain under my right rib that I get whenever I take Motrin or Aleve. I'm convinced it's my liver/gallbladder. I applied my castor oil pack and the uncomfortableness quickly went away.
The next day I discussed what I had done with my naturopath and jokingly asked her if I was going to die. She laughed and said no and I was given the go-ahead to continue the treatment.
Following the directions, I took a second dose on day three and the third dose on day five. The only thing I noticed was that I felt so much better each time I took it. I have no residual fatigue or any other symptoms and I am now 100% back to normal.
Would I Do it Again?
Based on my research, which I'll share below, I would most definitely take Ivermectin in the future if needed. It is very effective. However, if I ever need it again, I would prefer to get a prescription if possible. As with any medication, it is not without side effects, and depending on your health and medications that you're currently taking they could be serious. I do not take medicine, not even over-the-counter pain medicine.
If you are interested in taking Ivermectin, do your own research and discuss it with your physician.
Final Thoughts
Just like with Lyme, COVID is surrounded by a massive amount of controversy. In my mind, they are very similar in a lot of ways. If you've been in the Lyme community for any length of time you know exactly what I mean.
If you haven't you will soon discover the political agenda behind both. Lyme disease is difficult to diagnose and even more difficult to treat because the CDC refuses to acknowledge that chronic Lyme and co-infections are in fact plaguing probably billions of people.
They kindly acknowledge that over 400,000 people are diagnosed each year, however, only a small percentage of Lyme sufferers are correctly diagnosed because of failed testing and uneducated doctors.
If you're going to heal from Lyme or COVID you need to be ready to do your own research and find yourself a good doctor who isn't wrapped up in the corrupt medical establishment.
After years of being mistreated by so many doctors, I can finally say that there are really great doctors out there, it just takes some weeding out in order to find them.
If you don't get anything else out of this post, I hope and pray you will take away these two things. First, don't be afraid! Second, be prepared! When you are prepared and have a plan it removes the fear and when you need to put your plan into action you'll already know what you need to do!
DO NOT TAKE THIS POST AS MEDICAL ADVICE! I'M SIMPLY SHARING MY PERSONAL EXPERIENCE. I AM NOT A DOCTOR AND CANNOT RECOMMEND TREATMENT, DIAGNOSE OR TREAT ANY ILLNESS. ALWAYS SEEK THE ADVICE OF YOUR DOCTOR!
Resources
Ivermectin, a US Food and Drug Administration-approved anti-parasitic agent, was found to inhibit severe acute respiratory syndrome coronavirus 2 (SARS-CoV-2) replication in vitro. A randomized, double-blind, placebo-controlled trial was conducted to determine the rapidity of viral clearance and safety of ivermectin among adult SARS-CoV-2 patients. The trial included 72 hospitalized patients in Dhaka, Bangladesh, who were assigned to one of three groups: oral ivermectin alone (12 mg once daily for 5 days), oral ivermectin in combination with doxycycline (12 mg ivermectin single dose and 200 mg doxycycline on day 1, followed by 100 mg every 12 h for the next 4 days), and a placebo control group.
There were no severe adverse drug events recorded in the study. A 5-day course of ivermectin was found to be safe and effective in treating adult patients with mild COVID-19. Larger trials will be needed to confirm these preliminary findings.
"Ivermectin inhibits the replication of many viruses including SARS-CoV2; inhibits SARS-CoV2 binding to host tissue; has potent anti-inflammatory properties; diminishes viral load and protects against organ damage; prevents transmission and development of Covid-19 in people exposed to infected patients (prophylaxis); hastens recovery and prevents deterioration in mild to moderate disease; hastens recovery, and decreases both ICU admissions and death in hospitalized patients; reduces mortality in critically ill patients, and dramatically reduces case-fatality rates in regions with widespread use."
Paul Marik, MD, FCCM, FCCP, founder of the alliance and a professor and chief of the division of pulmonary and critical care medicine at Eastern Virginia Medical School, said that ivermectin "is a safe drug that is exceedingly cheap."
In a press conference, researchers said that ivermectin is an FDA-approved
anti-parasitic drug
 that has been available for approximately 40 years and previously earned researchers a Nobel Prize.
The drug is considered safe when taken in appropriate dosages. 
Side effects for the ivermectin
vary depending on whether it's taken orally to treat intestinal infections or topically for skin infections. Oral tablets can cause drowsiness, nausea, vomiting, and, in very rare cases, an increase in heart rate and seizures. Side effects for the topical ivermectin can include skin rash and irritation, while dry skin and stinging pain are severe and rare.
Cell culture experiments show that Ivermectin has robust antiviral action against a pool of viruses including HIV-1, dengue virus (DENV), Zika virus, West Nile virus, Venezuelan equine encephalitis virus, Chikungunya virus, Pseudorabies virus, adenovirus, and SARS-CoV-2 (COVID-19). 
Source:
https://pubmed.ncbi.nlm.nih.gov/32533071/
https://maximpulse.com/permethrin/ivermectin-calculating-a-dose.html
https://covid19criticalcare.com/https://drsyedhaider.com/